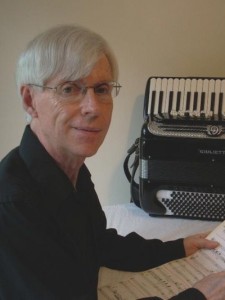 Dr. Robert McMahan, Professor of Music at The College of New Jersey is debuting a new work entitled Time for chorale, accordion, organ, and percussion with VOICES Chorale as part of their 25th anniversary celebration. The piece includes lyrics taken from Valerie Bloom's children's poem, also titled Time. The celebration is a ticketed event, and will take place on Saturday, May 18 at 8:00PM at St. Paul Roman Catholic Church on Nassau Street in Princeton.
Many musicians and performers will be featured, including award-winning organist Camilla Jarnot, and fellow composers Ken Guilmartin, Sheena Phillips, and Dale Warland.The Princeton Area Homeschool Choir will be featured, as well as Indian dancer and Bridgewater Raritan High School freshman, Divya Nayar.
Dr. McMahan is a recognized authority on the American composer, Carl Ruggles, and has published articles in American Music, Sonneck Society Bulletin, New Grove Dictionary of Opera, and New Grove Dictionary of Music. He is presently working on a book on the life and works of Ruggles.
Dr. McMahan's primary instrument is classical accordion, and he has tirelessly promoted the instrument in serious contemporary music throughout his career.  He has been commissioned to write works for the accordion by various individuals and organizations, including the American Accordionists' Association and the New York State Council on the Arts.  He has recorded on the CRS and Orion labels and is published by Ernest Deffner Music. Dr. McMahan has also been featured in articles by others in Keyboard Magazine, The Music Connoisseur, High Fidelity, Who's Who in American Composers:  Classical, and several other highly regarded publications.
Ms. Valerie Bloom is a Jamaican-born poet and novelist, living in England since 1979. She attended the University of Kent at Canterbury earning an honors degree, and was later awarded an honorary Masters degree. She has published several collections, the most recent of which is Whoop an Shout!
All are welcomed and encouraged to attend "Time Passing, Time Standing Still: Musical Perceptions of Time" on Saturday, May 18 at 8:00PM at St. Paul Roman Catholic Church in Princeton, NJ. To hear Dr. McMahan speak, to learn more about the event, or to purchase tickers, please visit http://www.voiceschorale.org/