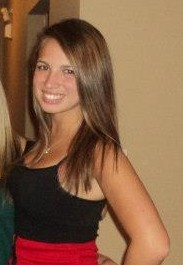 On college campuses nationwide, the month of May is dedicated to seniors celebrating the end of their academic careers, saying goodbye to textbooks and homework assignments, and shaking the hands of their future bosses. Michelle Futerfas and U-Jin Lee are among those celebrating–but for very different reasons. Both Futerfas and Lee competed against many exceptionally talented and bright students nationwide to land two coveted spots in top graduate programs in their respective fields.
Futerfas, a top Communication Studies major with an interdisciplinary concentration in Health Communication and minors in Professional Writing and Marketing, will pursue a PhD in Health Communication at the University of Maryland beginning in August 2013. Being directly accepted into a Ph.D. program is exceedingly rare, and Futerfas is one of only a few students from the department in the past twenty years to do so. In addition to her doctoral coursework, Futerfas will be responsible for teaching two undergraduate introductory courses to incoming students in communication studies.
"It's surreal," Futerfas beams. "I'm in shock. Thrilled and excited, but in shock."
The process was daunting, the application tedious, and the statement of purpose intense. Once submitted, she then had a lengthy phone interview with the department chair.
"I was nervous, but confident," Futerfas admits. "I knew this was my dream and had to prove it in the interview."
Her hard work paid off. She was contacted almost immediately with a fully funded offer for admittance to the doctoral program.
"I was speechless," she laughed. "My jaw dropped. I was with my friends and just couldn't believe it!"
Futerfas' interest in health communication first began when she took a Theories of Persuasion course, led by Professor Gary Woodward. Her work there inspired her to take Health Communication Campaigns, a class led by Professor Katherine Margolis, which expanded her knowledge of the field and pushed her to think outside the box. Margolis was impressed with her work and offered her an internship at HealthEd, a healthcare marketing agency focusing on Direct To Patient marketing and education, which Futerfas eagerly accepted. There, she worked on a variety of projects for major pharmaceutical companies and focused her time on a project for patients diagnosed with the Hepatitis C virus. It was this work that most prompted her decision to pursue her PhD.
When asked about her time at TCNJ, Futerfas replied eagerly, "The experiences and opportunities I had at The College of New Jersey shaped my career path.  I look forward to one day becoming a professor and inspiring students as I was here at TCNJ."
U-Jin Lee, an honors student and a Communication Studies major with a concentration in Radio/TV/Film and a minor in Journalism, received a similarly exciting email—one which admitted her to Columbia University for a Master of Science degree in Broadcast Journalism.
Lee's mother emigrated to the United States from South Korea when Lee was five, leaving her husband behind, to ensure that her children could take advantage of the creativity encouraged by the United States system of education. Lee immediately began to pursue music, playing the piano and flute, and advancing to violin when she was nine. In middle school, Lee was accepted, through rigorous audition, to the Pre-College Division of the Juilliard School and continued her musical studies there for eight years.
Lee always wanted to major in music. As a musician, she craved being able to communicate through sound and performance and understood the impact that various forms of communication could have on those listening. When arriving at TCNJ, she joined the Orchestra, but was encouraged to begin to explore the communication side of performance as well. Surprisingly, she found that communication was where she belonged, and decided to pursue the Radio/TV/Film track.
Through internships and coursework, Lee honed in on her true passion. She spent the summer of 2011 in South Korea working for Educational Broadcasting System, the only educational television and radio network covering South Korean territory, and the only South Korean radio and television network without a separate regional service. She was responsible for planning a large scale documentary film festival, as well as other smaller scale productions. She knew she loved the television side to the industry, but production planning was not for her. In the summer of2012, Lee interned at Fox Channel 9 News in Secaucus, NJ. There, when assisting anchors and shadowing reporters, she decided her ultimate goal was to become a foreign correspondent.
"I speak English, Spanish, and Korean," she laughed. "I hope that helps!"
Lee is seen as a role model in her track, working closely with faculty and encouraging and supporting her peers.
"I think it's all about having a passion," Lee mused, when asked about her career. "Find something you love, ask questions, be inquisitive, learn all you can, work hard. That's certainly something I learned during my time here at TCNJ."