"What are you doing after college?" can be the most terrifying question you can ask a graduating senior — but not for these members of TCNJ's class of 2023.
Here's a shortlist of what's next for some of this year's grads: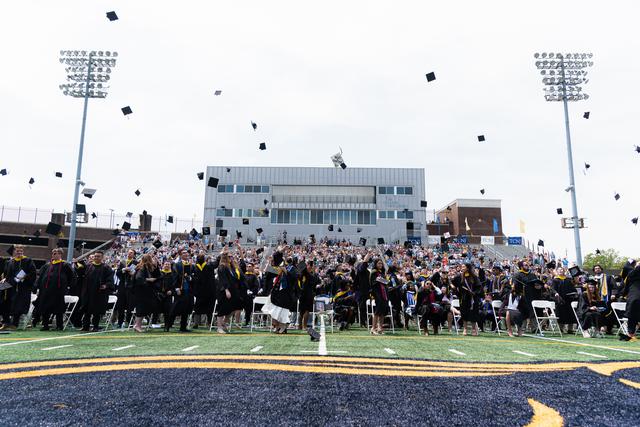 Emily Podd, chemistry and visual arts
The University of California San Diego, to start a PhD in inorganic chemistry.
Molly O'Brien, marketing
Ricola (yes, the cough drops), where she'll serve as assistant brand manager.
Gina Mancuso, English
Yale Law, with a scholarship thanks to her perfect LSAT scores.
Elli Lopez, computer engineering
The Arizona Diamondbacks as a baseball systems developer.
Matt Ligotti, nursing
Memorial Sloan Kettering Cancer Center, New York
Adeena Ahmed, computer science
Sony Interactive Entertainment, as a software engineer for PlayStation.
Ian Krietzberg, journalism and professional writing
TheStreet, Inc., a leading digital financial media company, where he'll be a breaking/trending news writer.
Aiden Steuerman, mechanical engineering
Lockheed Martin, as a radar systems engineer.
Nancy Bowne, international studies
University of Maryland, where she'll work on a Master of Public Policy degree.
Richard Schwartz, technology and engineering education
Lenape Regional School District as a technology education teacher.
Nataline Elmasri, biology
Hackensack Meridian School of Medicine
Alexis Luglio, chemistry
University of Michigan to pursue a PhD in materials science and engineering — funded in part by an award from the National Science Foundation Graduate Research Fellowship Program
Alex Reinhard, interactive multimedia and English
TCNJ! He's the web content manager in the Office of Communications, Marketing, and Brand Management.
Patrick Murphy, electrical engineering
Goddard Space Flight Center as a software engineer, working on spectrometry design for the next Mars Rover.
Eric Yoon, visual arts
Northwestern Mutual as an associate UX designer
Donovan Smith, nursing
Children's Hospital of Philadelphia
Others members of the Class of 2023 will go to work for one of these companies: Amazon, Deloitte, Disney Media, The Hartford, Lenovo, Lockheed Martin, Mathworks, NavAir, Prudential, Regeneron, UPS, United Airlines, Vanguard, Verizon.
… Or attend one of these grad schools: Columbia University, Drexel University, Gallaudet University, Georgetown University, John Jay College of Criminal Justice, Ohio State University, University of Delaware, University of Hawaii, University of Pennsylvania, Temple University, and of course, TCNJ.
Congratulations to all of our graduates. We look forward to following your success!
---
— Emily W. Dodd '03