r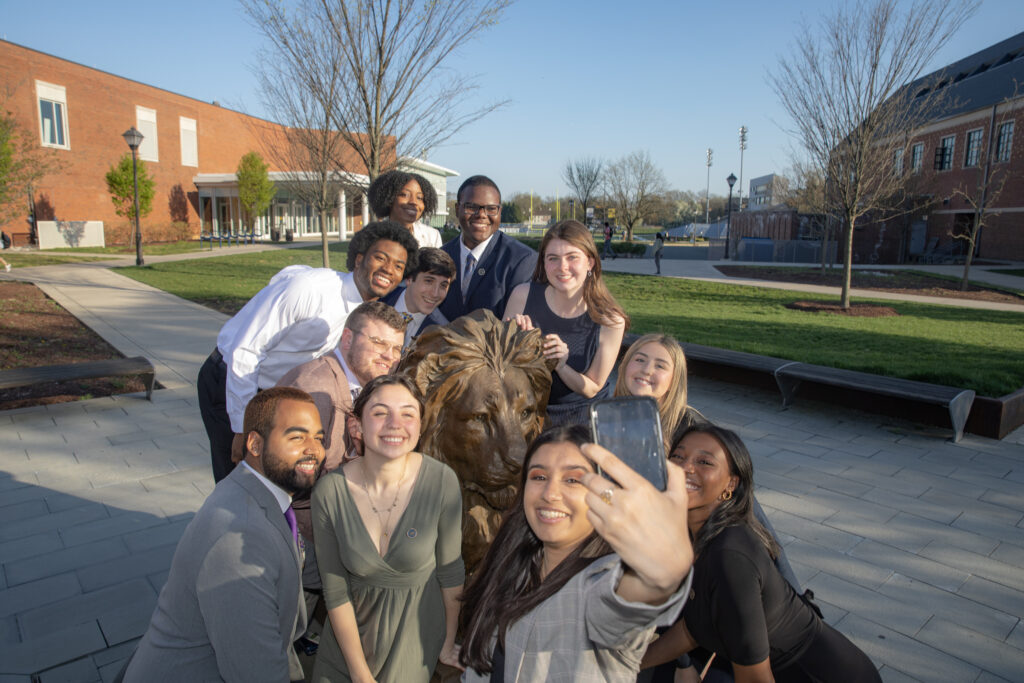 Two graduating seniors from TCNJ School of the Arts and Communication were inducted into the 2023 Blue and Gold Hall of Fame on April 12. Jillian Lynch, who recently received a B.A. in Communication Studies with minors in Marketing and Leadership, and Peter Corso, who recently received a B.A. in Music and a B.A. in Political Science, were among this year's recipients. 
Blue and Gold Award honors students who have made extraordinary and sustained contributions to The College of New Jersey. The individuals represent leadership, scholarship, service and the core beliefs of the College.
At TCNJ, Lynch served as a member of both the Phi Kappa Phi and Lambda Pi Eta honor societies and served as the student representative on several campus leadership search committees including dean for the School of the Arts and Communication and interim director for the Center for Student Success. Upon graduation, Lynch will start a full-time position as a program coordinator for Rutgers University's Student Orientation and Transition Programs. 
At TCNJ, Corso served as the vice president of Academic Affairs for Student Government and served as a head senator and on numerous committees. He also served as the president of the Phi Mu Alpha, music fraternity and was the musical director for the Trentones. He served as a tutor for numerous classes, was a member of the Political Honor Society Pi Sigma Alpha and was selected for a competitive internship program Campus to Capitol Mentorship program. Corso, who discovered a passion for public service by participating in multiple internships, plans to pursue a career with the NJ State or federal government. 
Lynch and Corso recently reflected on their TCNJ experience and what inspires them as leaders. Read more below.
What have you gained from your TCNJ experience, particularly as it relates leadership, scholarship and service?
Lynch: When I started at TCNJ, I would not have considered myself a leader. I was not involved in a lot of extracurriculars in high school and did not see myself as a leader. Through my extracurricular involvement at TCNJ, I realized that I had the capacity to be a leader in my own right. I followed my passions where they led me and found that I had meaningful contributions to give to others in leadership roles. By finding what it is I am passionate about, I was able to connect more with my peers and those I am leading to create the best experience for all.
Corso: I feel that I have become a more empathetic person and leader through my time at TCNJ. I have learned that personal connections and a dedication to others will take you much further than being overly by-the-book or too logistics-focused. In terms of leadership, I've learned to find a balance between the logical and social sides of my brain to chart a new path forward for myself and the groups I'm involved with. Scholastically, I have gained a much greater appreciation for discipline outside my own (Political Science & Music). Our liberal learning requirements at TCNJ force us to engage with a diverse range of ideas and academic practices that allow us to think about our scholastic strengths through an interdisciplinary lens. Service has manifested itself in many ways during my time here. I try to act as a servant-leader, working for the betterment of those around me. I have also been able to partake in multiple community service projects through the different organizations I'm involved in, which has given me a better understanding of my privilege. Community service work and volunteerism is a powerful tool to help others in your community, whether it be cleaning up a local park or bagging food for a local food shelter. I have felt an obligation to give back to the community surrounding TCNJ in my time here, and hope to maintain this mindset throughout my life.
What has been your most significant accomplishment at TCNJ?
Lynch: My most significant accomplishment throughout my time at TCNJ was done during my time as vice president of my sorority, Theta Phi Alpha. I knew I wanted to make our sorority more accessible for our current and future sisters and I advocated and implemented changes to facilitate that. The biggest change I implemented during my term was an overhaul of our absence system. Our old system centered around the use of monetary fines as a punishment for unexcused absences from meetings and events. This type of system caused sisters to experience financial strain and contributed to a stressful, uncomfortable culture within the organization. Rather than imposing fines as a consequence for every absence, I implemented a points system that rewards sisters based on their engagement. By lessening the financial strain on my sisters, even in small ways, more TCNJ students will be able to access the different benefits that Greek Life has to offer and find their own community on campus.
Corso: It's difficult to pinpoint one specific accomplishment that I could call my "most significant" at TCNJ because I've been so privileged to have had tons of impactful experiences. There are a few "big impact" events that come to mind, but I've found that it is the less public moments that have meant the most to me. My time on TCNJ's Committee on Academic Programs (CAP), one of the standing governance committees, has been a very rewarding experience. I am one of two undergraduate students sitting on CAP, and it is our job to advocate for the student body's voice and interests. Through CAP, I have been able to meet several passionate faculty and give direct feedback on academic policies that affect students' lives on a daily basis. Effectively providing feedback on a plethora of different policies and programs and interacting with different faculty and administrators at such a personal level has been one of the accomplishments that I feel will leave a lasting impact.
How would you describe your leadership style?
Lynch: I would say I have an open and collaborative leadership style. As a communications major, I love to talk and engage with those I am working with. I think having that basis of communication and connection opens many doors for your future endeavors, no matter the end goal. I would describe the way I lead as prioritizing building relationships with those I am leading and creating a safe space of open, fluid conversation so they are productive as well as enjoyable. 
Corso: I would describe my leadership style as both logical and empathic. Structure and knowledge are two things that I highly value in all of my roles. In order to run an organization or division of a group, I know that I as the leader have to be highly organized ahead of time for all projects and meetings. Once I feel comfortable and prepared, I focus my energy on leading empathetically. For me, this includes building times into meetings to chat and catch up on how the attendees' weeks have been and give everyone a chance to engage more socially before getting more into the agenda. In my experience, making meetings personal as opposed to rigid leads to whatever I'm running more efficiently. I see it as my job as a leader to facilitate a structured environment that allows for high productivity. Getting to know those around you and befriend them can often make this process much easier in the long run.
Who or what influences you as a leader?
Lynch: My mentors at TCNJ have heavily influenced my leadership style. I credit so much of my personal and professional development through my time at TCNJ to those who have guided me along the way. Lindsay Barndt, Avani Rana, and Melissa Andreas all have shaped me into the person I am today. They have opened so many doors, provided encouragement and feedback, and been a resource I know I can turn to when times are tough. 
Corso: I have been influenced by a plethora of leadership styles and ideas over time, but I am often guided by the principles of Karma Yoga in my work. Karma Yoga is a mental – as opposed to physical – yoga, and centers around an individual's focus on the positive effect that they can have on the world around them through whatever activity they are currently engaged in. The first "step" is to identify your own motivations, and how they manifest positively in your day-to-day life. Then you pinpoint a larger goal or project that you are working towards, and instead of focusing solely on the outcome Karma Yoga suggests that you focus on the process of reaching that goal. It is imperative to have a good work ethic and not get caught up in minor distractions throughout this process, and instead do your work diligently with your positive motivations in mind. It may sound somewhat complicated, but Karma Yoga is truly about exerting as much positive energy as possible into the world around you through the work you are engaging with. I have found that this mentality is helpful both conceptually and in reality, and has helped me grow exponentially as a leader. In addition to Karma Yoga, interacting with other leaders both on and off campus has made me much more aware of my own tendencies. By meeting new people and seeing them regularly, I am able to discover new things about myself and constantly change and improve as a leader.
How do you think your TCNJ experience has prepared you?
Lynch: TCNJ has prepared me for my newest role outside of this institution in a number of ways. It has provided me with unending experiences in working with students to help them on their journey. It has provided me the opportunity to work in Student Transitions as the Orientation Coordinator for two years, growing my experience within this specific subset of the Student Affairs field. Most of all, it has given me the tools to take on new challenges and continually learn in all my different roles. 
Corso: TCNJ has given me the ability to excel academically while being highly involved in extracurriculars and taking on leadership roles, for which I am eternally grateful. My classroom and student org experience has allowed me to acclimate myself with a packed schedule full of meetings and deadlines, which are all applicable skills in the workforce. My time at TCNJ has also given me an enormous toolkit of professional relationship and team-building skills that I genuinely believe I would not have gotten at another institution. The balance of academics and extracurriculars here has truly made for a unique and impactful college experience.
What advice do you have for students during their time at TCNJ?
Lynch: My main piece of advice I give every person who has ever asked is to get involved. Whether it be just attending a monthly club meeting, applying for a position even if you aren't sure if you're going to get it, or just taking that one step outside your dorm room. Opening yourself up to the opportunities available to you at TCNJ will forever change your college experience and your life. Just ask the high school version of me, who never would believe that I would be the person I am today. 
Corso: My "cliche" answer to this question is the answers you hear all the time: get involved, find social groups, etc. I absolutely agree with both of these things, but the biggest takeaway from my own experience that I'd hope to impart on a future student is to get to know your professors as much as possible. TCNJ is special because of its small class sizes and incredibly gifted faculty members, which combine to open endless doors for students to walk through. During my time here I've utilized professors' office hours for feedback and even taken three to four independent studies to learn from them on a more personal level. Developing a relationship of trust and mentorship with your professors and other adults you interact with here will help you grow not just as a student but as a person and will enrich your college experience overall, as it has mine.