TCNJ music education major Josie VanPuttenVink has been named a 2023 Presser Scholar and was presented with the award during the TCNJ Wind Ensemble and Choirs concert on April 29. 
She was nominated for the award by the Department of Music faculty.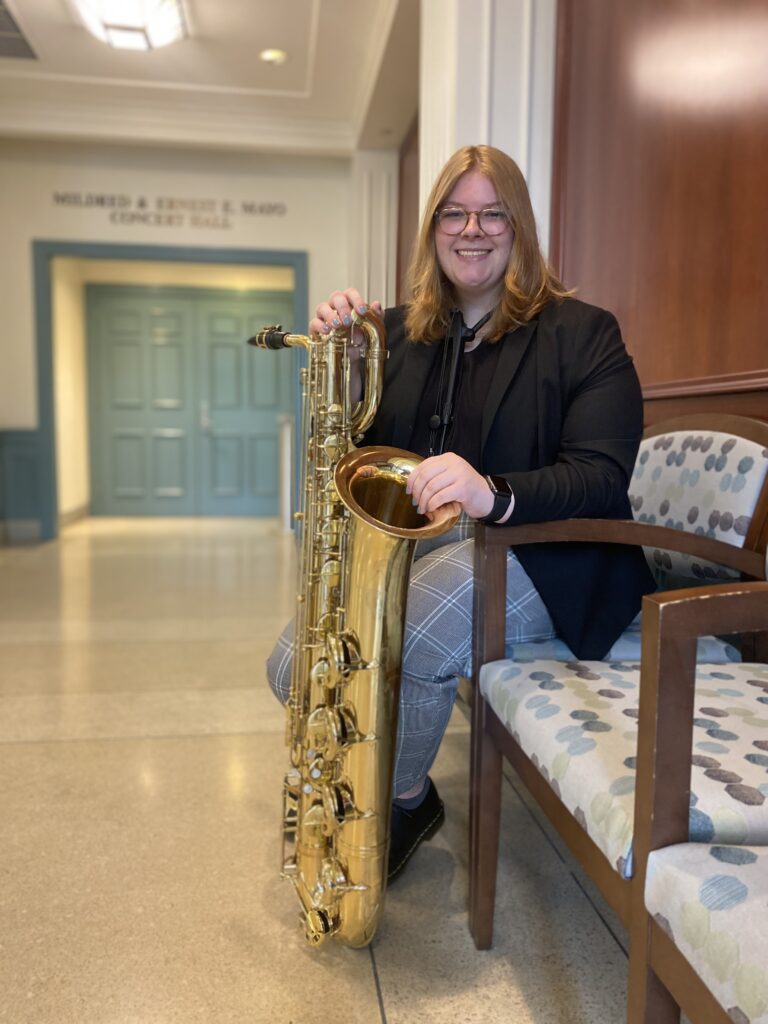 The Presser Undergraduate Scholar Award is presented annually to a student at the end of their junior year who has shown extraordinary academic and musical accomplishments, and demonstrates leadership and citizenship qualities. The $4,000 award may be applied towards expenses normally incurred in pursuit of a degree or for additional enrichment and musical advancement opportunities. 
"I was in complete awe when I first learned that I had received the Presser Scholar Award," VanPuttenVink said. "After all these years of hard work and dedication, it was finally starting to pay off. I did not have an easy life and have dealt with a lot of loss, but to stand there and receive this award meant the world to me. I am grateful to have been selected as this year's Presser Scholar."
VanPuttenVink, who started playing the alto saxophone in fourth grade and picked up the baritone saxophone in sixth grade, has been playing both instruments ever since. 
Music, along with the support system of her extended family, has helped VanPuttenVink navigate unimaginable hardships in recent years. In 2019, during her junior year of high school, VanPuttenVink's father unexpectedly passed away from a heart attack. In 2020, during the summer before her first-year at TCNJ, VanPuttenVink's mother was diagnosed with Stage IV pancreatic cancer and fought for six months until she lost her battle in January of 2021. 
"With the loss I have experienced I have a lot of challenges. I had to grow up a lot faster than most and learn to adjust to things that were happening around me," she said. "Music is something that helped me face those challenges. Whenever I play my saxophone I always put my feelings into what I'm playing and it helps me cope with my emotions." 
VanPuttenVink studies saxophone as her principal instrument and bassoon as her secondary instrument. She has performed in the Wind Ensemble in addition to sax, bassoon and vocal ensembles, and sax quartet.
VanPuttenVink also serves as president of the student chapter of Sigma Alpha Iota International Music Fraternity at TCNJ.
"Josie embodies the qualities of leadership and citizenship in the TCNJ music community. She has grown exponentially both personally and musically these past few years," said Kathleen Mitchell, saxophone adjunct faculty member. "Life has certainly thrown her some serious curve balls, but she has handled them with grace and dignity."
"Josie has overcome enormous personal challenges and is truly a respected musician and person. I find her grit, drive and dedication to meaningful achievement, a truly admirable quality.  She sets a high bar for herself and a goal for her colleagues," said Dennis MacMullin, bassoon adjunct faculty member.
When she graduates next year, VanPuttenVink says she plans to find an elementary music position in North Jersey and inspire her students to discover their own journey and love for music.
"I feel confident walking into my first job and being able to teach my students everything they need to know about music," VanPuttenVink said. "My professors have encouraged me and have helped me on this journey, and I am so thankful." 
– Meaghan Resta