Every year, fine art and photography/video students who take the Professional Practices course at TCNJ plan, create and install their work for the BFA Senior Solo Show. In the past, this event has been held inside TCNJ Art Gallery of the Art and Interactive Multimedia (AIMM) Building on campus. However, due COVID-19 regulations, students and staff were faced with the unique challenge of maintaining safety guidelines while showing their work.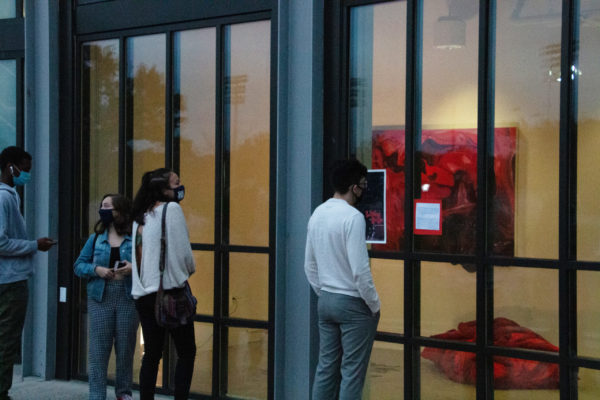 According to Margaret Pezalla-Grandlund, the director of the art gallery at TCNJ, two separate in person exhibitions were held to showcase the student's art. The first session that ran from Oct. 28 through Nov. 4 exhibited the works of students Lily Gilston, Sarah Valente, Halle Luttrell, Lucia Gardiner, Addison Cooper and Shelly Crooz. 
The second in person showcase, that ran from Nov. 13 until Nov. 20, featured the works of Ash Albeser, Stephanie Rosenthal, Jamie Davidson, Ryan Levy. The four remaining students who took the professional practices class, Samantha Kearney, Madison Cascardo, Jayln Giles-Ewell and Heather Simpson, were able to showcase their work online. 
Lily Gilston of Marlboro, NJ., a visual arts major with a concentration in fine arts, says that in order to have the show this year, she and her fellow students collectively brainstormed ways to utilize their given space while keeping in mind COVID-19 procedures.  
"Because of the pandemic, we had to reevaluate, regroup and rethink how we could create an experience, at all," Gilston says. "The show is important because this is such a big part of college for art majors, this is what we've been looking forward to for years."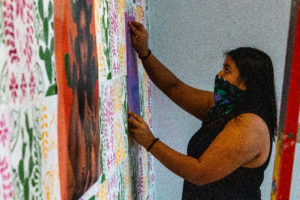 After coming together, students and staff decided to display the art through the windows of the AIMM Building, where patrons were able to safely view the exhibitions from the building's courtyard outside. For those who came to see the show in person, masks and social distancing were required.
Liselot van der Heijden, professor of fine art and photography, who the course, explained that the class is one of three capstone courses and is designed to help students develop work that goes toward their thesis.
"Another very important component is to have professional experience so that they learn how to present their work and how to engage their work with the public," says van der Heijden.
Students who took part in the showcase were able to use a multitude of different media to create their art. The student's media ranged from painting, photography, multimedia installations and the use of different materials.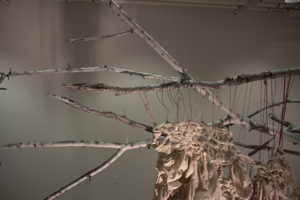 Gilston says that she prefers to combine different types of media. For her show, she primarily focused on fiber art and was able to create fabric sculptures that involved weaving and stitching.
"My goal is to gain as many skills as I can," says Gilston. "I really want to use the skills I have gained in the last four years in the practical and professional world or art, and at the same time, continue with my own art."
Staff members who helped to make the event possible were Provost Jeffery Osborn, School of the Arts and Communication Dean Maurice Hall, Art and Art History Department Chair Chung Chak, Program Assistant Olivia Burton, Art Gallery Director Margaret Pezalla-Grandlund, and Safety and Studio Technician Kyle LoPinto. 
"It was incredible that we could do this, despite all the obstacles," says van der Heijden. "The students worked really hard for it, and so did the whole school."
— Sara Petrozziello '21