Performance seasons might have been canceled and concert halls might have temporarily closed their doors, but TCNJ students, faculty and staff proved that not even a worldwide pandemic could stop the power of music and community. 
On Dec. 5, TCNJ Department of Music brought the show directly to the homes of students, families, alumni and friends during a two-hour live stream event on YouTube and Facebook. Since its debut, the YouTube event has garnered more than 1.6K views.
The Virtual Showcase featured student testimonials and performances by fall 2020 ensembles: TCNJ Chorale, College Choir, Concert Band, Percussion Ensemble, Jazz Ensemble and Wind Ensemble, as well as special performances by the 2020 TCNJ Honors Festival.
Department Chairperson and Associate Professor of Music Colleen A. Q. Sears and Director of Choral Activities and Professor of Music John P. Leonard served as the event emcees. 
Throughout the evening, Leonard gave live remarks from the stage and balcony of Mildred & Ernest E. Mayo Concert Hall, allowing current students and alumni the opportunity to reconnect with the performance hall space.
"Though we've had to spend the semester apart, what you'll hear this evening is a testament to the power of music to connect across divides of all kinds," said Sears in her opening remarks. 
The showcase was a result of a semester-long collaboration of music students and faculty working with student interns and professional staff in the School of the Arts and Communication. 
"Though you will hear singing that sounds like a choir and instruments playing together so that they sound like a full ensemble, everything you hear tonight was recorded separately: person by person, part by part, in individual students' homes," Sears said. "The ensemble that you'll hear was made possible by our incredibly talented, dedicated, and hardworking music faculty, students, and staff who have spent countless hours aligning and editing individual audio tracks to produce what you'll hear this evening."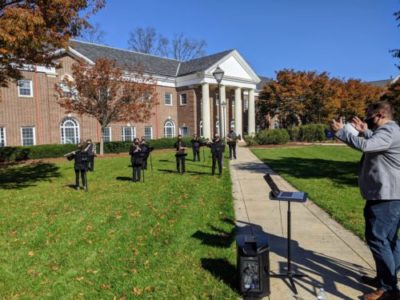 In November, members of TCNJ Wind Ensemble, TCNJ Chorale and College Choir had the opportunity to return to campus for the first time since last March for a special recording of their performances.
"Our work in the ensembles was definitely a team effort of the students, staff and faculty and what I believe as collaboration at our best," Leonard said. "There was such a desire to perform together, and to do it well, we all put a lot of ourselves into these performances, perhaps even more than in normal circumstances."
Director of Bands and Assistant Professor of Music Eric M. Laprade reflected on the experience.
"The Virtual Showcase was unique in that it highlighted both the innovative and creative ways with which TCNJ is adapting to and thriving in a virtual environment, while at the same timing affirming the essential role of in-person collaborative music making for our students and faculty," Laprade said. "I am most proud of the collaborative spirit of our amazing team in the School of the Arts and Communication, and the talent and tenacity of our students."
Each of music selections were chosen to reflect the current challenges of the pandemic, and racial and social injustices, explained Sears. 
"This time of year usually allows us the opportunity to travel, rest, rejuvenate, spend quality time with our loved ones, and celebrate together. But instead, we continue to struggle through dark times," Sears said. "Some of what you'll hear tonight reflects the darkness of these times, and others throughout history."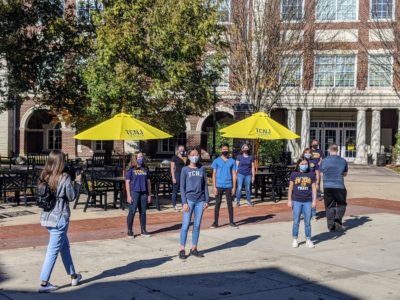 From TCNJ Concert Band's rendition of Steven Bryant's In This Broad Earth and to the Chorale's renditions of This Little Light of Mine, viewers were encouraged to discover light during dark times.
"After witnessing all the social unrest of the summer, I felt that it was necessary to turn our voices, very purposefully, toward studying, learning, and  performing music that explicitly calls attention to the real need for equality for peoples of color in our country and beyond," Leonard explained. "I believe that we, the choral ensembles at TCNJ, are in a position to help empower and uplift the voices of the marginalized through our work – to validate their voices and support them with our voices and our art."
In case you missed it, view the event program and watch a replay of the virtual event.
–Meaghan Resta