Camille Furst '22, a journalism and professional writing major with a minor in broadcast and multimedia journalism, was awarded the 2020 Robert Cole Scholarship. This scholarship is given in honor of Emeritus Professor Robert Cole to an undergraduate student with a demonstrated commitment to a career in newsgathering. The award honors Cole's commitment to the journalism profession and to the value of free expression in a democratic society.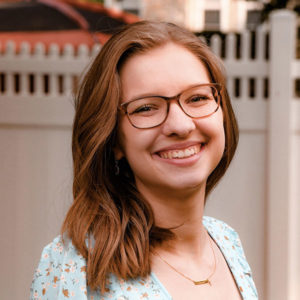 Furst of Basking Ridge, NJ, first came to TCNJ as an English and secondary education major, but quickly discovered the School of the Arts and Communication.
"I stumbled upon journalism when I walked into The Signal office on one of my first days at TCNJ," says Furst, "I then decided to change my major and therefore change the trajectory of my career."
Furst serves as the paper's editor in chief, and says that she would not be where she is today without her experience working with The Signal. 
"As a journalism major, you have to absolutely get involved with some type of news organization," Furst says. "The Signal is the best place to do that. It is a liaison between doing work in class and working at a professional publication."
Amidst the constant news cycle of 2020, Furst says that The Signal made the unprecedented decision to report throughout the summer. 
"We knew that the stories needed to be told and we knew that we needed to keep the campus informed with what was going on," says Furst. Despite the challenges the paper faced during the pandemic, Furst says the experience helped her grow as a reporter and editor.  Furst is featured in this recent article by NJ Advance Media for NJ.com.
Donna Shaw, associate professor of journalism and professional writing, praised Furst for her hard work and dedication to the school's paper.
"As editor-in-chief, Camille has been a major force in The Signal's ongoing coverage of this year's most consequential news stories," says Shaw. "This is information that students, staff, faculty and other community members could get nowhere else, and it demonstrates her commitment to journalism excellence. She is exactly the kind of student that would have made Professor Cole proud."
This semester, Furst has been applying to internships across the country to find the best possible media experience for her senior year. After graduation, she plans on applying to fellowships, possibly going to graduate school and finding a full-time job as an enterprise or investigative reporter. 
Furst urges those who are interested in journalism to write outside of the classroom and get involved as much as possible. 
"I don't think journalism is necessarily something that people are born to do, but it comes from experience," says Furst. "It comes from realizing there are so many stories to tell, and wanting to be the one who tells them."
— Sara Petrozziello '21