Matthew Lawrence '05 has returned to his alma mater to teach classes he once took as a student in TCNJ's Department of Communication Studies.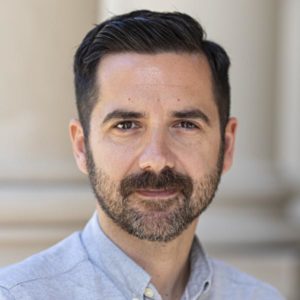 "Not only did I attend TCNJ as an undergraduate, but the Communication Studies Department gave me my first opportunity to teach as an adjunct professor," says Lawrence, now assistant professor of Communication Studies.
This semester, Lawrence is teaching Intro to Television Studio (COM 212) and Lighting and Cinematography (COM 368).
Lawrence, who currently lives in Brooklyn, New York, works with narrative and documentary styles. 
His research interests include film and video production, screenwriting, film history, and film theory. Lawrence is also interested in transmedia storytelling, media literacy, smartphone filmmaking, New American Cinema, Independent Cinema, Horror Cinema and Cult Cinema. He holds a MFA from Boston University in Film Production with a concentration in Screenwriting and Directing.
Some of Lawrence's work includes a feature film called Uncle Peckerhead and short film Shoebox Redhead. Lawrence's work has played over 160 festivals, museums, and art houses on four different continents. He has earned numerous awards for his work as writer, director, producer and editor.
Lawrence credits TCNJ with aiding in his career development. 
"TCNJ and, more specifically, the communication studies department, afforded me my first opportunities to develop and grow as both an artist and filmmaker and later as an educator and academic," says Lawrence. "I am over the moon to return to a place I consider home and work with some of the best and brightest students in the hopes of paying it forward."
–Madison Oxx '20