TCNJ Art Gallery's virtual exhibition Be Here Now launched on Sept. 9, 2020. Be Here Now consists of an online exhibition, a series of virtual lectures by noted designers and artists, and a series of printed 'zines that serve as a catalog of the exhibition. The artists and designers in Be Here Now use design strategies to analyze our systems of social change and the ways in which visual media can challenge an audience and encourage viewers to question their frame of mind. View the virtual exhibition.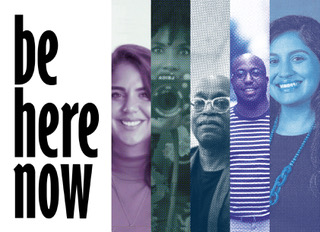 The Be Here Now Zine Series
A series of "zines," designed and created by professors Belinda Haikes, and Jason Alejandro and their upper-level graphic design students, will serve as the catalog of the exhibition. Each artists' work will be represented in a 'zine, and the series will be introduced with an essay by graphic designer Emily Luce. The 'zines will be printed in-house, on the Department of Art and Art History's new Risograph printer. Copies of the Be Here Now publication are available on request by emailing tcag@tcnj.edu. Supplies are limited.
Public Events
As part of Be Here Now, the TCNJ Art Gallery will host a series of public events. Because the Gallery is currently closed in response to COVID-19 measures, the Gallery created opportunities for students and the wider public to engage with exhibition artists online.
Students and members of the public are encouraged to attend these virtual events organized as part of Be Here Now:
Jerome Harris
Artist's Talk
Thursday, October 1, 2:00
Join Zoom Meeting ID: 93494356224 Password: 004488
By phone: (US) +1 301-715-8592 Passcode: 004488
Elaine Lopez
Artist's Talk
Monday, October 19, 5:30-6:15 pm
Join Zoom Meeting: ID: 99300393624 Password: 619357
Join by phone: (US) +1 253-215-8782 Passcode: 619357
Mia Lopez
Curator's Talk
Tuesday, October 27 12:30-1:30pm
Join Zoom Meeting ID: 96655886775 Password: 965679
By phone: (US) +1 301-715-8592 Passcode: 965679
Sheila Pree Bright
Artist's Talk
Wednesday, October 28 7:00-8:00 pm
Join Zoom Meeting ID: 96686041769 Password: 004609
By phone: (US) +1 312-626-6799 Passcode: 004609
Hours:
The TCNJ Art Gallery is currently closed as part of the college's response to the COVID-19 crisis. Check tcnj.edu for updates on our reopening plans. Art Gallery exhibitions are free and open to the public.
This program is made possible, in part, by the Mercer County Cultural and Heritage Commission through funding from the Mercer County Board of Chosen Freeholders and the New Jersey State Council on the Arts, a partner agency of the National Endowment for the Arts.