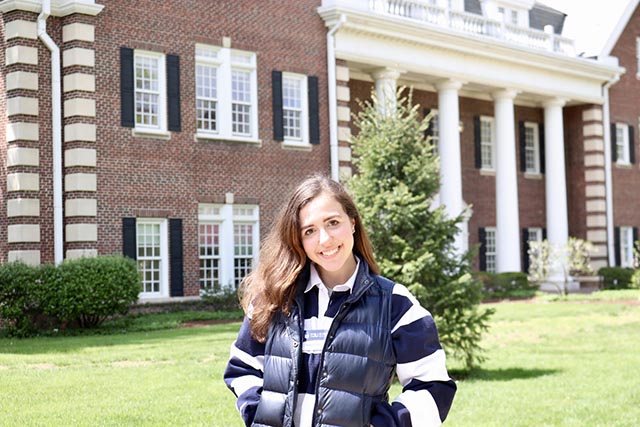 Victoria Giardina '21 has given herself a competitive edge in her field by combining three different courses of study offered by the School of the Arts and Communication to create one cohesive education experience.
Giardina, a junior journalism and professional writing major with a dual minor in communication studies and interactive multimedia, is on track to graduate a semester early. She is also recipient of a $5,000 New York Women in Communication (NYWICI) scholarship, awarded by Catherine Carlozzi, called the Carlozzi Family Scholarship. This scholarship is awarded for exceptional work in the journalism industry, based on academics and internships. 
"Her program of study is ambitious and well-rounded," says Professor and Chair of the Department of Journalism and Professional Writing Donna Shaw. "She also has done multiple internships, as well as working for campus media and I think the people at NYWICI are recognizing that by giving her this fantastic scholarship."
Giardina also received a $1,000 Broadcast Pioneers of Philadelphia (BPP) Scholarship and a $1,000 David E. West Memorial Scholarship, granted by the New Jersey Press Foundation.
"I absolutely love being a student in the School of the Arts and Communication and am truly grateful for all of the incredible resources TCNJ has provided me," says Giardina. "Studying a flexible and creative field can certainly have its challenges and I believe honing in on three focused disciplines within the school was the best decision."
Giardina says that these three fields of study have given her digital media skills, allowed her to learn about television production and public relations, and taught her how to write news stories. 
Giardina credits her IMM studies as being the "cherry on top" of her education. "I have learned HTML and JavaScript, which has given me a competitive edge in the editorial field since I know the backend of digital media, as well as Adobe programs like InDesign, Photoshop and Premiere Pro," says Giardina.
Giardina served as a staff writer for The Signal  where she enjoyed reporting on campus and became a health columnist for the student-run news organization. 
However, Giardina soon after developed an interest in digital news and instead began writing for TCNJ's chapter of Her Campus. 
"I absolutely love the storytelling style of Her Campus and how I can write my articles with a relatable, anecdotal feel," says Giardina. "This summer, I missed writing for the platform so I applied to be a national lifestyle writer for Her Campus and was offered the position."
During the summer after her freshman year, Giardina interned with The Dr. Oz Show in New York City where she worked as a digital editorial intern for DoctorOz.com. 
More recently, Giardina was a medical editorial intern for the WebMD and Medscape platforms.
"Both of these experiences strengthened my skills in search engine optimization (SEO), audience engagement and health reporting," says Giardina. "I would love to pursue a career in health journalism and, since the onset of COVID-19, I can say I absolutely love highlighting important health information for a digital audience." 
Giardina credits Associate Professor of Journalism and Professional Writing Emilie Lounsberry's introduction to journalism course and assigned work for cementing her interest in the field. 
"If it wasn't for the journalism program, I wouldn't have been encouraged to discover what I truly loved to write about, which I learned was health journalism," says Giardina. "I love how the program is set up and how the nature of it screams, 'Go, discover what you love and what you're passionate about' and I started to immerse myself in countless opportunities — all of which have molded me into a better journalist."
Giardina's multidisciplinary studies and involvement on campus as a college ambassador for the Office of Undergraduate Admissions and a member of Alpha xi Delta Sorority have made her a versatile student and job candidate.
"TCNJ has made me feel ready to enter the workforce prior to graduation," says Giardina.
-Madison Oxx '20