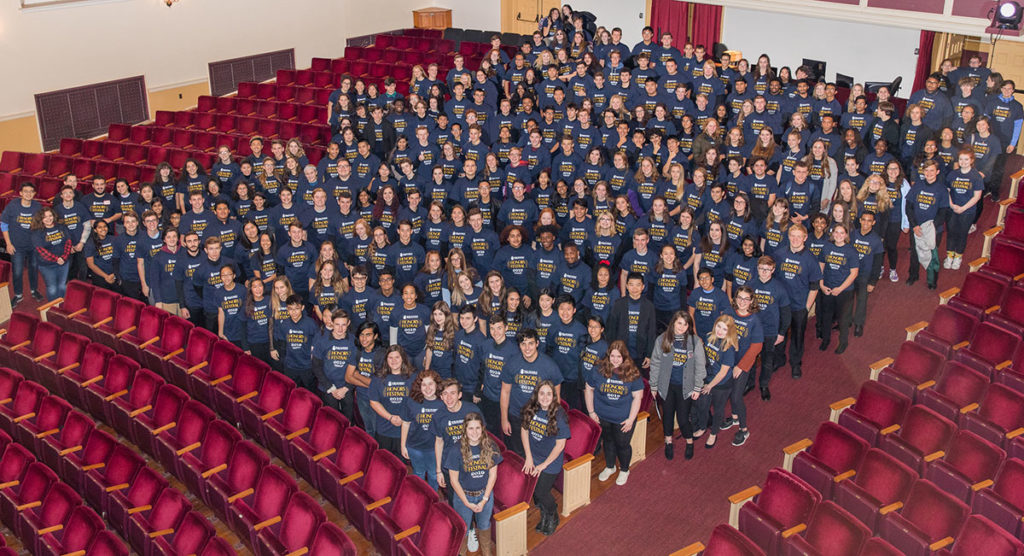 The Department of Music hosted over 250 high school students representing 54 schools districts from New Jersey and Pennsylvania as part of the two-day TCNJ Honors Festival in November 2019. 
The festival featured an Honors Chorus, Honors Orchestra, and two Honors Wind Ensembles. After being nominated by their high school music teachers, selected students spent November 17 on campus, participating in rehearsals, attending clinics and masterclasses by TCNJ music faculty members, and watching TCNJ student performances. Students returned to campus on November 23 for two culminating performances: the Chorus and Orchestra performed in the Mildred & Ernest E. Mayo Concert Hall and the Wind Ensembles performed in the Kendall Main Stage Theater. 
"The festival provides an enriching musical experience for talented student musicians from across the region to make music together and learn about all that TCNJ has to offer," explained Director of Bands and Assistant Professor of Music Eric Laprade, who helped to organize both days. "The festival's success would not have been possible without the support of our department chair Wayne Heisler, faculty and staff from across the college, more than 60 TCNJ student volunteers, and our vibrant and active cohort of student organizations."
The TCNJ faculty conductors included Laprade; Associate Professor of Music and Area Coordinator of Music Education Dr. Colleen Sears; Associate Professor of Music and Director of Choral Activities Dr. John Leonard; Assistant Professor of Choral Music Education and Assistant Director of Choral Activities Nick McBride; and Director of the College Orchestra Uli Speth.
The masterclasses were facilitated by TCNJ adjunct faculty members David DiGiacobbe (flute); Mark Snyder (oboe); Dennis MacMullin (bassoon); Josh Kovach (clarinet); Kathy Mitchell (saxophone); Jim Hala (trumpet); Brian Brown (tuba; Bill Trigg (percussion); Aundrey Mitchell (viola); Chris Clark (double bass); and Chris Sierra (voice); and Associate Professor of Music Suzanne Hickman (voice). 
Two student groups — the TCNJ Saxophone Quartet (composed of students Keith So, Nicholas Napier, Maxwell Mellies, Terence Odonkor, and Buddy Fox on percussion and coached by Mitchell) and the Treblemakers a capella group — performed on November 17. 
Plans for next year's Honors Festival are already underway. The Department of Music also organizes clinics for high school students. For more information, email Meaghan Resta at restam@tcnj.edu
— Meaghan Resta