TCNJ's pre-service art educators enrolled in AAE 330: Pedagogy in Art Education last semester, gained practical experience teaching art and art history by hosting over 100 students from local elementary, middle and high schools in November 2019. 
In partnership with the TCNJ Art Gallery, the Sarnoff Collection, and the printmaking studio, students were offered docent-led tours of the most recent exhibition "A Collaborative Language: Selections from the Experimental Printmaking Institute," followed by a hands-on screen printing workshop. 
The program was organized by Assistant Professor of Art Education Carolina Blatt-Gross, with support from Assistant Professor of Printmaking Marchelo Vera; Director of the TCNJ Art Gallery and The Sarnoff Collection Margaret Pezalla-Granlund; and Sarnoff Collection Curator Florencia Pierri.
"It was a dynamic and exciting day," Blatt-Gross said. "Bringing K-12 students to campus gave them the opportunity to see artwork and get hands-on experience with media they are unlikely to get in their home classrooms. The students were eager to participate and the teachers were extremely appreciative, while TCNJ pre-service art educators gained authentic experience teaching art and art history. It was a win-win-win!"
As part of his "A Tale of Two Cities" project, Vera has also led several hands-on printmaking workshops and cultural-exchange community activities between TCNJ students and Taller Puertorriqueño's Youth Arts Program directed by Daniel de Jesús in Philadelphia.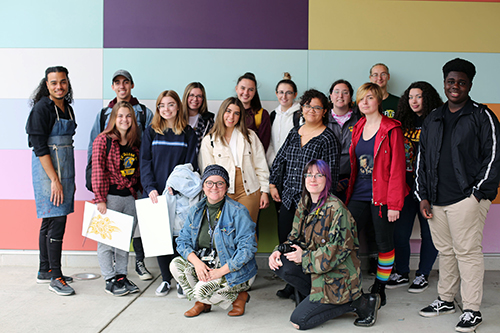 The project, supported through TCNJ in collaboration with the New Jersey Manufacturers Insurance Group Urban Innovation Fund, is designed to bring together students from Philadelphia and Trenton for artist workshops and creative opportunities. 
In November, TCNJ student volunteers Brandon Jones, Estefany Rodriquez, and Ryan Levy led a workshop in the art and art history's printmaking studio area for students from the Taller Puertorriqueño's Youth Arts Program.
"Artist workshops are a fun way to engage and welcome students and their families to experience some of the excellent resources and facilities found on campus," Vera explained. "As a volunteer working within the non-profit arts, I also aim to give back to our surrounding communities through collaboration that supports after school programs. Mentorship can make all the difference to our youth, guiding them through the resources and opportunities that they are not always aware of or have access to regularly is of most importance."
—Meaghan Resta