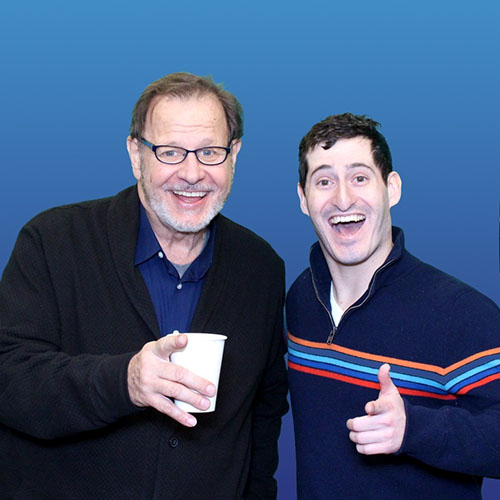 As an undergraduate, Benjamin Zander '18 gained hands-on experience as a news anchor and executive sports producer for TCNJ Lions Television and as a staff writer for The Signal. 
Since graduating with degrees in journalism and professional writing, and communication studies (radio, television, and film specialization), Zander has sought unique opportunities — including a brief stint as a background actor for the Emmy-award winning The Marvelous Mrs. Maisel and as a production assistant for the NYC auditions of America's Got Talent — to make his LinkedIn profile standout to prospective employers.
Zander, who has worked at CBS since January 2019, handling audience management at The Late Show with Stephen Colbert and Last Week Tonight with John Oliver, landed a new role with CBS News in June. Below he describes his job responsibilities and how the School of the Arts and Communication has prepared him for his journalism career.
What is your position? I am in the CBS Page Program, working at two national news shows. I am the main page at CBS This Morning: Saturday (CBS' national Saturday morning news show) and the control room/newsroom page at CBS Weekend News (the national evening news show that airs on the weekends).
In my role as main page at CBS This Morning: Saturday, I work very closely with producers. I assist them and our editors with cutting pieces for air, I facilitate weekly band tapings, I set-up and participate in weekly graphics and rundown meetings, I attend shoots with anchors and correspondents, I help write pieces, I do research and archival work, and I manage the show's part-time page, transport page, green room page, script-runner page and the show's intern. I'm also in the control room during the show, where I am responsible for spell-checking all fonts and story bars, as well as compiling/distributing rights and clearances information to hundreds of people within CBS News.
At CBS Weekend News, I'm responsible for creating all on-air graphics, story bars, and fonts used in the broadcast. When I'm not in the control room, I'm working with producers in the News Hub.
How did you land the job? I applied through the CBS Corporation job portal and after a few rounds of interviews I got the job. 
How did your experience at TCNJ prepare you for this role? I'm the journalist that I am today because of the education and experience that I gained from the School of the Arts and Communication. Being able to write for television, having a working knowledge of AVID software, extensive experience working in a control room and television studio — these are just a few of the skills I acquired at TCNJ that I put to use each and every day at CBS News.
My ethics classes have especially prepared me for every decision I have made — and will make – as a journalist.  For instance, I was involved in the national breaking news coverage of a mass shooting three times in the last six months, and on the day of the Dayton, Ohio shooting, I had to reach out to some of the survivors on behalf of CBS News. I was able to do this in an ethical and respectful manner thanks to the lessons I learned in the School of the Arts and Communication and the amazing professors who taught them to me! 
— Meaghan Resta