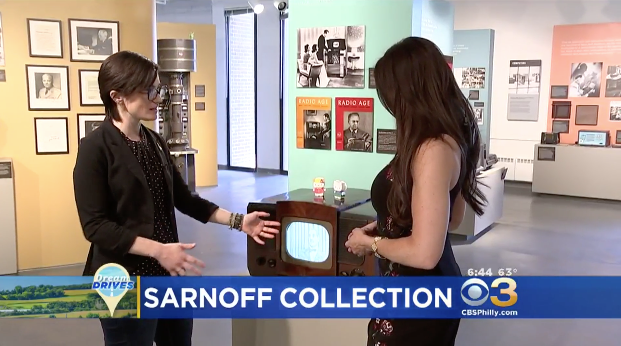 CBS Philly visited the Sarnoff Collection at TCNJ. This segment aired yesterday and will air again on Sunday at 8 AM on CBS 3 (Philadelphia).
"I feel right at home," CBS3's Meisha Johnson said. "There's a good reason for that. This place screams television."
Curator Florencia Pierri said, "So what we have here is the history of the Radio Corporation of America, so we set this up as more of a history of technology museum."
This spot in Ewing, New Jersey is a veritable what's what of broadcast inventions, from revolutionary radios to the technological triumph of TV, from the dearly departed videodisc to the victor of the home video war, VHS.
Dream Drives: Classic Candy Making At Asher's Chocolate Co.
The museum is a celebration of the life of David Sarnoff, who rose to be president of RCA.
"He was just a visionary," Florencia said. "He had ideas like sound coming from the air in a radio, then the idea of a flat picture screen that you could hang on your wall."
The vacuum tube was the delicate glass heart that made the first home radios possible.
"Vacuum tubes," Meisha said. "That sounds so crazy to think about that. So where does it go from there?"
Dream Drives: Antique Adventure On The Carousel at Pottstown
"So then we talk about phonographs," Florencia said. "Phonographs are a bit of an earlier technology, but they were sort of remade with the vacuum tubes."
From there came the development of home television. Vintage home TVs, some of which still work, are scattered around the room.
The collection's 10″ RCA 8TS30 still works. "This one is relatively modern. It's 1948," Florencia said.
The CT-100 was one of RCA's first color televisions. "The CT-100 came out in 1954 and it cost an astounding $995."
This trip can throw you back in time. "A lot of people come by here and say, 'Oh, my parents had that television!" Florencia said.
Dream Drives: Muscle Cars At LRA Auto Museum
Eventually, vacuum tubes were replaced by transistors, and TV sets slimmed down. Cameras became small enough to take to the moon. Sarnoff kept reaching for the stars. His lab created a concept of an LCD flat-screen TV in 1955.
Like big hair and parachute pants, RCA didn't survive the '80s. It was bought by GE. But at the Sarnoff Collection, it's never forgotten.
The Sarnoff Collection is located on the second floor of Roscoe West Hall at the College of New Jersey in Ewing, NJ.  For a campus map and parking information, please visit tcnj.edu/map.
Dream Drives: Living Museum Of Moravian Pottery And Tile Works
The Sarnoff Collection is open Wednesdays 1PM until 5PM and Sundays 1PM to 3PM. School visits and group visits can be set up by appointment. Contact at sarnoff@tcnj.edu.
 By Meisha Johnson, CBS Philly
Click here to see the video