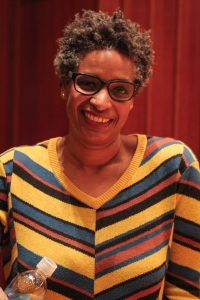 Our final Brown Bag of the Spring 2018 semester, presented by NYU professor Yvonne Latty, stressed the importance of telling the stories of the silenced. Latty began her journey in storytelling as an NYU film student but has expanded to print journalism, documentary filmmaking, and even podcasting.
Her books, We Were There: Voices of African American Veterans, from World War II to the War in Iraq and In Conflict: Iraq War Veterans Speak Out on Duty, Loss and the Fight to Stay Alive, capture the stories of those who have served our country, while her documentaries, including Sacred Poison and To Have a Home, illuminate problems in Navajo Nation, from uranium poisoning in their water to a housing crisis. Latty stressed to her audience that regardless of occupation, anyone can be a person that makes a difference.
Yvonne Latty is the Director of the Reporting New York and Reporting the Nation programs at New York University's Carter Journalism Institute. She worked for the Philadelphia Daily News for 13 years and most recently served as host, producer, and editor of Mouthful, a podcast that features complicated conversations with teenagers based on monologues they wrote.