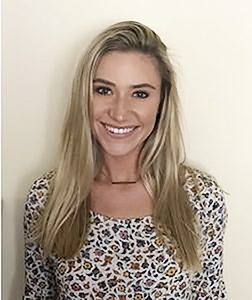 Name: Ashton Leber
Hometown: Hopewell, NJ
Major: Journalism & Professional Writing
Graduation: December 2017

Student Spotlight: Ashton Leber has worked as a Digital Content intern for the Philadelphia Union professional soccer team and is currently the Communications Intern for the New York Red Bulls soccer team, two highly sought-after positions that allow her to develop the skills she has learned in her Journalism & Professional Writing major.
Tell us about your internships with the Philadelphia Union and the New York Red Bulls soccer teams!
I grew up in a soccer family and I'm the only child who didn't get the soccer genes. Not once did I think I'd be interning with a professional sports team.
In March, I decided to apply as the Digital Content Intern with the Philadelphia Union. It was the best experience I have ever had, and has opened so many doors for me. I was writing at least eight articles a day for the Union and worked directly with the Content Manager. After a few weeks, I was interviewing professional soccer players and the coaching staff at the Union. I worked all home games, sitting in the press box and taking notes during the games. After the games, I would attend the post-game press conferences which allowed me to get out of my comfort zone, because I was talking to coaches and athletes who have worked extremely hard to get to where they are.
At Red Bulls, I'm working as the Communications Intern which is a little different from what I was doing at the Union. I work with the communications department to assist on game days with the setting up of the press box and distributing game notes, helping with the press conferences and doing anything else I possibly can. It's so important during internships to make sure you ask questions, get involved and always take initiative.
Long story short – I work with professional athletes, of course in a professional manner, which is so cool. Not many people can say that.
What do you plan to do with your degree after graduation?
When I graduate this December, I plan to stick with sports. I've already started the job application because it can be extremely overwhelming if you wait last minute. Recently, as I've been applying to jobs, I've found that people I've worked with at the Union and Red Bulls know someone within other MLS departments. Making those connections have helped me when it comes to applying to jobs, especially in sports. I would like to stick with communications and my goal is to one day be a communications director at a professional sports team.
What advice can you offer incoming students, especially those interested in Journalism & Professional Writing?
Making connections and stepping out of your comfort zone can really take you far in the workplace. I never though I could like sports so much, and having these internships really showed me that there's so much you can do with journalism. I would say it's best to take risks because you can really surprise yourself with the things you can do. Also, it's important to get involved on campus. I definitely wouldn't have had much on resume if I didn't join The Signal. I was a transfer student, so I was nervous to get involved. But jumping right in improved my writing and editing skills and has helped prepare me for the real world. For those applying to jobs or internships, it's best to be patient. I firmly believe everything happens for a reason and if it's meant to be, it will be. Sometimes you will feel discouraged, but it just means that opportunity wasn't the best fit for you.
What does TCNJ's School of the Arts and Communications mean to you? 
The School of the Arts and Communication definitely has a lot of opportunity for its students and getting involved is the best thing to do. I'm so happy I transferred to TCNJ from West Virginia University because the smaller class sizes and one-on-one connections with my professors has given me that hands-on learning I was looking for. Professors are a valuable resources, and getting to know your advisor and professors really helps you out in the long run. I've met so many great professors who are willing to take time out of their busy schedules to help me when I need it. I'm so happy I came to this school and I can't express enough the opportunities I've had as a student. TCNJ has allowed me to discover talents about myself I never knew I had.