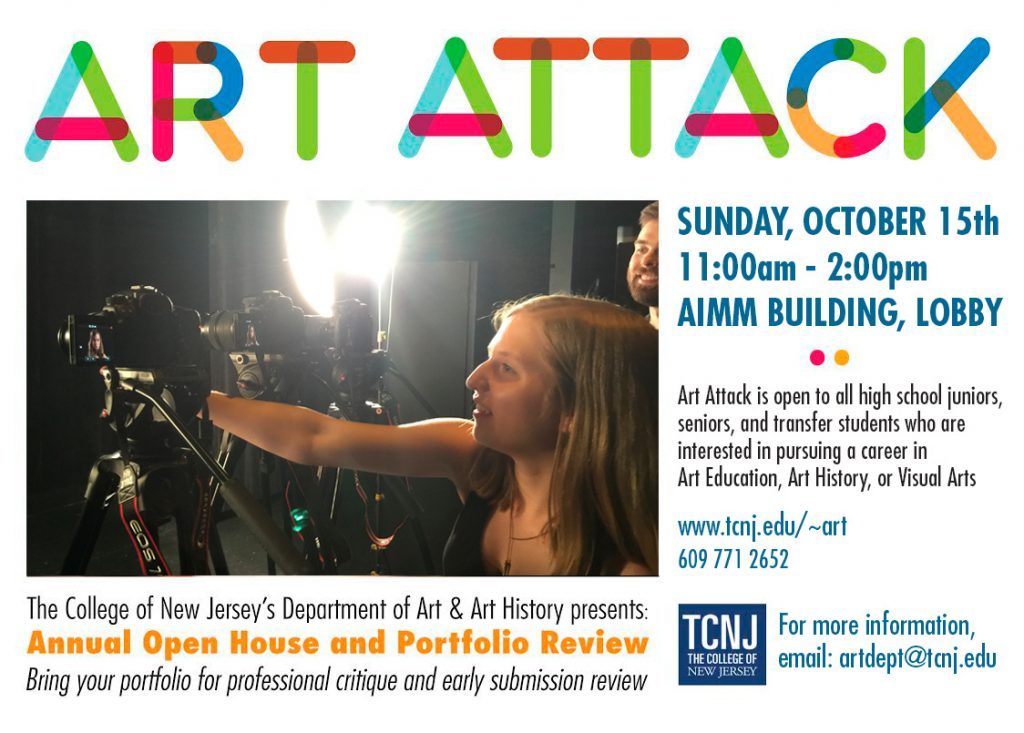 The College of New Jersey's Department of Art and Art History invites all prospective students to attend Art Attack, our annual Open House and Portfolio Consultation Day on Sunday, October 15th, 2017!
11:00 AM-2:00 PM, Art and Interactive Multimedia Building 
 Have your portfolio reviewed by studio faculty
Get suggestions and advice on how to strengthen and improve your portfolio…A strong portfolio could meet the portfolio requirement for admission to the Art Education and Visual Arts majors (although applicants would still have to submit the remaining required academic criteria for admission and be comprehensively reviewed prior to admission to the college)
Meet the faculty
Talk to current students
Tour the building and campus
See artwork produced in classes
Enjoy refreshments

Please RSVP for Art Attack by registering with both the Department of Art and History and the Office of Admissions.
Art Attack Registration
Admissions Lions Day Registration
Art Attack is held in conjunction with the October 15th TCNJ Lions Day Open House. By registering with Admissions you will receive information about other events that day including campus tours, dorm tours, financial aid presentations, and more.
A strong and complete portfolio at Art Attack would feature 12 or more original works demonstrating the applicant's drawing and technical skills, creativity, and aesthetic ability. A substantial part of the portfolio should feature drawings (still life, figure, self-portrait, and assorted sketches). We encourage you to include additional work in other media such as painting, printmaking, sculpture, photography, mixed-media, digital media, and video. If possible, please also include at least one image from a sketchbook.
Please bring your physical portfolio to Art Attack rather than digital images of your work. If you need to show digital files including photo and video, please bring a laptop or tablet on which to display the work. A strong complete portfolio from high school seniors or transfer applicants could meet the portfolio requirement for admission to the Art Education and Visual Arts majors, although applicants would still have to submit the remaining required academic criteria for admission and be comprehensively reviewed prior to admission to the college. Students are encouraged to show their work even as juniors or if their portfolio is incomplete. Our faculty members are happy to provide advice on how to improve the portfolio before final submission.
Each student will meet with a team of two professors for the consultation. Each team of professors has been assigned two rooms, so while they are meeting with one student in room A, the next student can be laying out their art on a table or pulling up documents on a laptop in the room B. Therefore, please go to your assigned room 10 minutes early to prepare. Due to the amount of people present at Art Attack, portfolio consultations are limited to 10 minutes. The portfolio consultation is the same for all majors and specializations.
We will have light snacks available at Art Attack. You are also welcome to check out the dining facilities on campus for a full lunch while waiting for your portfolio consultation, or to go on a campus tour with TCNJ ambassadors.
TCNJ's Department of Art and Art History offers the following dynamic degrees:
BA in Art Education
BA in Art History 
BFA in Visual Arts(Specializations in Fine Art, Graphic Design, & Lens-Based Art: Photography/Video)
The Department of Art and Art History is committed to providing programs of study which develop a high level of conceptual and technical ability, resources beyond the studio and the classroom for a broader education in the arts, exposure to and understanding of electronic media and methods of communication, and a balance between a demanding course of professional study and a liberal arts education.
Our art facility features traditional studios as well as state-of-the-art computing and electronic media labs. The faculty of the Department of Art and Art History consists of scholars, exhibiting artists, and active professionals, and it is augmented by guest lecturers and adjunct professors who are practicing professionals in the New York-Philadelphia corridor. The department enjoys an enviable placement record in terms of graduate study and employment, and graduates of the program have attained positions of leadership in their respective fields.
Website: art.tcnj.edu
Email: artdept@tcnj.edu
Phone: (609) 771-2652
Facebook: Art & Art History
Campus Directions: Directions Found Here
Campus Map: Campus Map