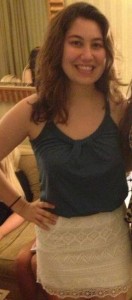 Name: Sydnee Weinbaum
Hometown: Florham Park, NJ
Major: Communication Studies
Minor: Communication Disorders
Organization Involvement: Golden Key National Honor Society (Community Service Chair), Sigma Sigma Sigma (Fundraising Chair), Bonner Center (volunteer)
Sydnee Weinbaum is a junior Communication Studies major with a minor in Communication Disorders. Sydnee currently holds an internship position at the New Jersey Council of County Colleges, serves on the executive board of the Golden Key National Honor Society as the Community Service Chair, and has a leadership role as the Fundraising Chair of Sigma Sigma Sigma. She plans to continue her education in the field of Communication Studies in graduate school, with a focus in either public relations or speech pathology.
What led you to decide to major in Communication Studies?
When I was applying to colleges, I wasn't completely sure what I wanted to study. I knew that I loved to write, and I had experience as the Features Editor of my high school's newspaper. I ultimately chose to major in Communication Studies because it is such a broad field, which has allowed me to explore my options before having to decide on a focus.
What has your experience been like as an intern at the New Jersey Council of County Colleges?
I am currently taking Professor Jacob Farbman's Strategies of Public Relations class (COM 371), and he offered students an opportunity to apply for an internship position to work with him at the New Jersey Council of County Colleges (NJCCC). I was very interested in this opportunity, as the topic of public relations was not something I knew much about in Communication Studies. My main responsibility as an intern at the NJCCC is to draft and develop press releases, which serve to educate the public about what opportunities community colleges offer, inform trustees about funding, and provide prospective high school students with information about programs and services offered through community colleges, such as the NJ STARS Program. I learned a lot about the process of drafting and revising a press release, as well as doing the research for it. My main responsibility has been to create the news release to promote the NJ C4 Initiative.

What is the NJ C4 Initiative?
The NJ C4 Initiative is an effort to increase the number of community college students completing their associate degrees and certificates so that they have the credentials they need to successfully transfer to four-year colleges and universities to earn their bachelor's degrees and enter careers that provide family-sustaining wages. The Phi Theta Kappa Honor Society has helped community college students pledge to complete their degrees and accomplish their goals to graduate through the NJ C4. I wrote the news release for this major initiative, and my work has been covered by other news sources, including the Star-Ledger, the Press of Atlantic City, the Philadelphia Inquirer, and the Daily Record. I wasn't expecting my writing to gain statewide coverage, and it's a great feeling to have my news release recognized!
Tell us about your experience as a Contributing Writer at Elegant Lifestyles Magazine.
Elegant Lifestyles Magazine is a local publication that I am involved with as a Contributing Writer. I find and visit various local boutiques and interview the owners to ask them about the latest style trends and to let readers know about what is offered in their stores. This has helped improve my journalism and communication skills, especially when encountering the challenge of talking to store owners who are not interested in being featured in the magazine.
How have your experiences, courses, and professors at TCNJ helped prepare you for working in your field?
I do feel that the courses and professors at TCNJ, especially in the Department of Communication Studies, have definitely prepared me for my internship with NJCCC. Dr. Pollock's Methods of Communication Research and Analysis course (COM 390), for example, is a very challenging class, but I learned so many different skills as a result. Being able to explore different topics within the field of Communication Studies has also been helpful in preparing me.

Who has been your greatest influence throughout college?
Professor Farbman has been a phenomenal mentor to me both in class as well as at my internship with NJCCC. I honestly had very little experience with public relations when I applied for the internship, but Professor Farbman gave me the chance to learn so much in a very hands-on environment. He's been very accommodating and supportive!
What memory at TCNJ has been most important to you?
I served as the Community Chairperson for my sorority, Sigma Sigma Sigma. For one of our volunteer initiatives, we went to the Trenton Area Soup Kitchen to help give out meals to those in need. It was eye-opening to see the struggles that people in the community are facing, and it was such a great experience to volunteer with my sorority sisters. My involvement with Sigma Sigma Sigma has really helped me come out of my shell, and has offered me many leadership and volunteer opportunities.
What are you plans for after you graduate from TCNJ?
I am interested in attending graduate school after I graduate from TCNJ next May. Communication Studies is such a broad field, and I am considering continuing my education in public relations or in speech pathology, which would incorporate my minor in Communication Disorders. I would like to go to school in Boston, and there are many great programs for speech pathology within the city.
What advice do you have for other students majoring in the Arts and Communication or thinking about applying to TCNJ?
Keep your options open! It's okay if you aren't completely sure what you want to do or study. Communication Studies is a broad major, so take advantage of exploring different topics and fields through your classes and other experiences.
What is your favorite TV show? Book?
I love watching Modern Family and Keeping up with the Kardashians. My favorite author is Jodi Picoult, and My Sister's Keeper is one of my favorite books.
If you could have one super power, what would it be?
I would like to have the ability to read other people's minds.
If we opened up your refrigerator right now, what would we find?
Probably hummus!