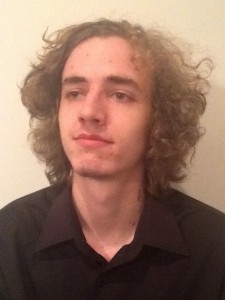 Name: Martin Bayer
Hometown: Galloway, NJ
Majors: Music and Interactive Multimedia
Organization Involvement: President and founder of the TCNJ Association for Music Production and Discussion (TCNJ AMP'D), Vice President of the Association for Computing Machinery's Special Interest Group on Computer Graphics and Interactive Techniques (TCNJ ACM SIGGRAPH).
Martin Bayer is a senior at TCNJ has double majors in Music and Interactive Multimedia. His interdisciplinary undergraduate career has allowed him to study electronic music, music composition, computer game design, and music composition for games. In fact, Martin, along with his teammates, created an award-winning computer game in just 48 hours at the 2012 Philadelphia Game Jam, a digital game-building competition! Martin plans to continue to combine his interests in music and interactive multimedia in both graduate school and future projects and collaborations.
What led you to double major in Music and Interactive Multimedia?
When I began applying to colleges, I was really looking for somewhere that would provide me with an academic career in interactive multimedia (IMM) as well as music. I was really interested in the IMM program that TCNJ offers. TCNJ also integrates art and writing as a comprehensive field with a focus on interdisciplinary studies. As for TCNJ's focus on game design, it is definitely more geared toward students who are looking to relate new and innovative ideas from different disciplines to the concepts of videogames.
A combination of the fields of music and technology seems to be up-and-coming. Can you tell us more about how these two topics relate?
Music technology is definitely an innovative field. The best way to describe it is that it's basically like a hybrid between engineering and music. One example here at TCNJ is Dr. Nakra's "Conducting Robots." Though I didn't work on this project personally, Dr. Nakra and a team of students majoring in Engineering, Music, Interactive Multimedia, and the Sciences worked on designing and building life-sized robots that actually conducted the TCNJ Orchestra in concert. This project definitely combined music and technology, which is becoming more and more popular.
What are some music and interactive multimedia projects that you have been working on?
Since it's my senior year, I've been working on my capstone projects for both of my majors. For my Interactive Multimedia capstone, I have been focusing on interactive music composition. I've created a prototype project that I am looking to continue to work on next semester. Users are able to compose non-linear music depending on how they manipulate the environment created in the prototype. For my Music capstone, I am focusing on musical theatre and combining technology with performing arts.
As the President and founder of the TCNJ Association for Music Production and Discussion, what led you to creating this organization? What topics or projects does the organization focus on?
Some other students and I had been having trouble using the recording studio on campus, so that's how we got the idea to open a studio in the space next to it. We founded the organization so students could have access to a space and equipment to do sound recordings, write music, and create remixes. Some of the other members and I have released some albums, and we've even performed live at The Rat. You can find our music online at http://tcnjampd.bandcamp.com/.
What other TCNJ organizations are you currently involved in?
I am also the Vice President the Association for Computing Machinery's Special Interest Group on Computer Graphics and Interactive Techniques (TCNJ ACM SIGGRAPH). It's an animation-focused organization that holds workshops, tutorials, and animated movie nights for students who are interested in this aspect of graphic design. Students can share their interest in computer design and collaborate on projects and ideas.
Can you tell us about the 2012 Philadelphia Game Jam competition you participated in?
The Philly Game Jam is a 48-hour digital game-building competition. It's a team competition, so I worked together with four other students and alumni on Team Kairos to compete against nine other teams from around the Northeast. We collaborated to create a 2-D puzzle-solving computer game that focused on the effects of time as a major theme. We won the "Most Innovative" and "Judges' Choice" awards, and we'll be able to register for next year's Game Jam for free.
How have your experiences at TCNJ helped prepare you for working in your field?
Being able to participate in the Philly Game Jam was an incredible experience, and performing live in The Rat was stressful but still fun. I have definitely been able to combine my interests in music and IMM as an undergraduate at TCNJ. TCNJ is also full of great role models in professors. Dr. Nakra and Professor Ault have definitely served as role models and support for me while in the program here. I also feel that TCNJ has prepared me to continue my education, and I've recently applied to several graduate schools.
Where do you see yourself in 5 years?
My next step is to go to graduate school. I've applied to several different programs, mostly in computer music composition and interactive multimedia and music technology. I see myself becoming an entrepreneur and collaborating on new and innovative projects that combine music and IMM.
What advice do you have for other students who share similar interests?
My advice is not to worry about it being a lot of work. Anyone doing this is going to be passionate about what they're working on, which makes it feel like it's not as much work as it actually is.
What is your favorite TV show? Movie? Book?
My favorite show right now is Adventure Time, and my favorite movie is Hero. The last book I read was "The Dispossessed" by Ursula K. Le Guin. It was assigned for the Honors 370 "Utopia" class with Professor Robertson, and I really enjoyed reading it.
Who do people say is your celebrity look-alike?
I usually get that I look like the guy who played Napoleon Dynamite, but I've also heard that I look like Weird Al.
If you could have any super power, what would it be?
That's a tough one…but I would have to say having some kind of foresight or being able to tell the future.