Name: Alexander Young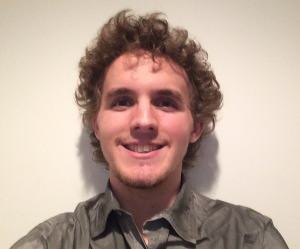 Hometown: Frenchtown, NJ
Major: Interactive Multimedia
Organization Involvement: Phi Theta Kappa member, Psi Beta member, NJ STARS Program, Certified Private Pilot
What led you to decide to major in Interactive Multimedia?
I had a friend in high school who was a programmer, and he really got me interested in the idea of game development. I've wanted to make video games ever since, so I decided to pursue a degree in Interactive Multimedia to hone my skills, make connections, and get more involved in the field of game development.
Can you tell us about your role in designing the video game "Comeback Trenton" with Habitat for Humanity of Trenton?
I worked with my peers in the IMM 370 class that focused on News Games. Our goal for the "Comeback Trenton" project was to bring awareness to issues related to homelessness and land development. In the game that we created, the player takes on the role of a land development company and is faced with real life challenges. By having people experience what is involved in land development, we hope to raise awareness of various issues and get more people in the community interested and motivated to make changes.
 What other IMM designs or collaborations have you been working on?
I just launched an app on iTunes a few days ago called Cave Vine. I used the skills I learned last semester in Professor Vanegas's IMM 120 class. I wanted to create a fun and challenging game that at the same time wouldn't be stressful for players. In Cave Vine, you fight your way to the top of a seemingly endless cave as a growing vine. Winding your way between rocks and through power ups, your goal is to achieve an ever-higher score. However, if your vine hits a rock, the game is over and the player is given the chance to seek how far they have grown. Anyone who might be interested in the game can check out the official trailer here: http://www.youtube.com/watch?v=Ahevi9hiKbk
Where does your inspiration come from?
I see things that haven't been done before, which makes me want to create games that are new, fun, and interesting that I think other people will enjoy playing. I have been really inspired by Markus Persson, the creator of the popular video game Minecraft. Another role model for me has been Elon Musk, an entrepreneur who uses technology to make the world a better place, rather than using technology to simply make the world. This concept is an important one for me, and is reflected in the IMM academic program here at TCNJ as well.
As a member of the NJ STARS program, what was it like to transition into student life at TCNJ?
I had always wanted to attend TCNJ, but I was not able to afford to do so. Through the NJ STARS program, I was able to attend Raritan Valley Community College for two years and then transfer into TCNJ. Because of this opportunity, I will be able to graduate from TCNJ with a BA in Interactive Multimedia. While I was at Raritan Valley, I took all of my core class requirements, like math and English, which has allowed me to now take the classes that I'm interested in here at TCNJ. This is my second semester at TCNJ, and I am looking forward to continuing to hone my game development skills while meeting other students and professors who share similar interests with me.
Who has been the greatest influence or supporter throughout your journey in the Arts?
My father and mother are definitely my biggest supporters. Game development isn't exactly an average career path, but my father has always supported me working with technology and video games. My mother always encouraged me to be creative and to try new things.
What memory at TCNJ has been most important to you?
My most important memory at TCNJ is definitely my first experience arriving at the college on orientation day. I was very excited to start classes, but had no idea just how awesome some of the professors would be. By having the chance to meet with the friendly and informative faculty of the  IMM curriculum I was convinced that I had made the right choice in coming to this college.
Where do you see yourself in five years?
In five years from now, I hope to be working as an independent developer of video games, or working at an organization that develops games. I also would be interested in engineering if I ever have the opportunity to study that field in the future as well. For now, I have a few new video game ideas that I am working on developing, and I am interested in creating games that are socially interactive.
What advice do you have for other students who are interested in developing video games or pursuing a degree in Interactive Multimedia?
My advice would be to seek out anyone who is already in the field and who has the skills that you yourself are interested in developing. Look to your peers to see what you can learn from them. I would also recommend putting in the effort to assignments and homework from your professors. After all, the professors only give us the vehicle to get us where we want to go, but we are the ones who have to put in the work to get there.
How did you get involved in flight and becoming a Certified Private Pilot?
When I was in 6th grade, a friend of mine got a flight simulator and I became fascinated with aviation. Seeing my interest in the game my father bought me three flight lessons, and it's been a hobby of mine ever since. By working while I attended high school, I was able to save up enough to complete all of my required flight hours allowing me to be certified as a Private Pilot at age 18.
What's your favorite movie? Book? TV show?
My favorite movie is Contact, which is based on the novel by Carl Sagan. My favorite book is Jurassic Park, though the last book I read was War of the Worlds. As for TV shows, I always enjoy watching Mythbusters.
If we opened up your fridge right now, what would we find?
I am actually a vegan, so you would probably find a lot of vegetables! You'd probably see a lot of lettuce and cucumbers.
Who do people say your celebrity look-alike is?
People sometimes say that I look like Bob Dylan.
If you could have any super power, what would it be?
The super power I would most like to have is the ability to fly.