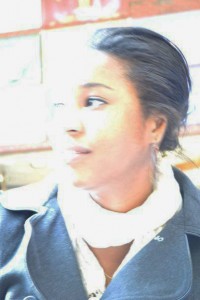 Name: Karachi "Kara" Ukaegbu
Hometown: Roselle, NJ
Major: Communication Studies – Concentration in Radio/TV/Film
Minor:  Interactive Multimedia
Organization Involvement: Student Film Union, Bonner Center for Civic and Community Engagement, Educated Leaders with Innovation and Tenacity to Evolve (E.L.I.T.E.)
Karachi "Kara" Ukaegbu is a Communication Studies major in the class of 2013 here at The College of New Jersey. With a concentration in Radio, TV, and Film and a minor in Interactive Multimedia, Kara's main interest and talent lies in film and documentary editing. Her professional experiences as a film editor include working as an editing intern for NBC Universal, Atlantic Records of Warner Music Group, and New York Women in Film and Television. Kara has also proved herself to be a leader both on and off campus: she founded the Student Film Union, served as the co-founder and coordinator of TCNJ's own Campus Organic Community Garden, and created nine short films and documentaries for the Bonner Center for Civic and Community Engagement and its partnering organizations, including the Trenton Area Soup Kitchen.
What sparked your interest in the Arts and Communication discipline?
I chose to enter the Communication Studies major because it made the most sense to me. It's where I feel that I can make the most difference. I actually began my freshman year at The College of New Jersey as an International Business major. I wound up taking a 400-level directing class with Professor Johnson, which is where I realized my passion for film. I accomplished so much during that class, and I gained a lot of self-confidence. I switched my major shortly after. Through my experiences in COM classes, I learned that I am really good at editing, I am excited to hone my craft, and that I can imagine myself in this career for the rest of my life. Truly, I am blessed to have found my passion, and look forward to whatever is next.

What was your experience with your first film like?
During the summer of my freshman year, I created short promotional films for Bonner using old footage of Bonners and their experiences. Immediately, the Director and Assistant Director loved it. Those films were my first contracted pieces of work. The best part was when two of them were screen in front of the entire Bonner group. I felt so proud of myself when I saw older Bonners that I looked up to tearing up as they reminisced about their college years through Bonner. It's amazing how through editing, I was able to tug someone's heartstrings.
Afterwards, I embarked on several personal projects. It was very rewarding to have my peers—other students whose work I really admired—tell me that they wanted to work with me after watching some of my films. That is when I knew that I wanted to continue in film as a career.
How have your experiences, classes, and professors at TCNJ helped prepare you to work in your field?
The directing class that I took freshman year was my first and favorite class, though the editing classes I have taken have led me to finding my passion for film editing. I enjoy the basic technical fundamentals and learning how to use them to showcase my own voice in my work. Professor Johnson, who is my academic advisor, has also been both a great educator and support for me, and has helped me gain confidence in my abilities. It takes a lot of courage to expose yourself to the world through your work, and the Communications Department has helped build my confidence in order to take creative risks, which has helped me develop my unique personality and professional identity.
Knowing that hard work and dedication does pay off, my best experiences within the Communications major are creating challenges and continuously proving myself. When I learned that I won the Promise of Achievement award in the COM department or hear good reviews about projects I've worked on, I feel humbled. It affirms that I am on the right track toward my future.
What has your involvement with the Bonner Center for Civic and Community Engagement been like?
I have been involved with the Bonner Center since my freshman year. Since then, I have received the annual National Leader Scholarship that focuses 300+ hours of service combating civic issues in local community. I was given a lot of responsibilities, even as a freshman, and I found confidence in myself to rise to the occasion because I knew others felt that I could handle it. One accomplishment that I am really proud of is the Campus Organic Community Garden, a 2,000 square foot garden on campus that supports the global "Green Movement" effort. That was my first major project through this organization. Essentially, we changed the infrastructure of the campus itself through developing this garden, which is not an easy thing to do. As the co-founder and coordinator of this project, it gives me great confidence to know that I made an impact on the campus itself. I'm glad to say, it is still thriving and there are plans for expansion soon!
I also produced a documentary on Joe, a patron of the Trenton Area Soup Kitchen, and the nine short films for the Bonner Center for Civic and Community Engagement. These films are used annually, from introducing 1500 TCNJ freshmen to the program to visual support in speeches made by the director, Patrick Donohue, and affiliate partners such as AmeriCorps, Youthbuild, and more.
You were selected for several unique internship positions. What can you tell us about working in the field?
I have worked as an intern for four different organizations: NBC Universal, Atlantic Records of Warner Music Group, New York Women in Film and Television, and Big M Productions, Inc. & Cowgirl Media, Inc. Through these internship opportunities, I gained invaluable experience as an editor of films, short-clips, trailers for feature-length documentaries, music videos, and award speeches.
This past summer, I interned for the New York Women in Film and Television. This organization honors noteworthy women, such as Martha Stewart and Claire Danes, especially through its involvement with the distinguished MUSE Awards and the Designing Women Awards. I began as an Administrative Intern, though my hard work and talents were recognized and my position evolved into an Editing Intern and Videographer. You'll be surprised how people notice not only the big things you do, but the small things as well! I gave 200% on every task I was given, and it really paid off. I was eventually given the responsibility to edit the archives of interviews, and through this internship I was able to network with those already working in my field.
Networking is key. Essentially, it is how I gained the privilege to move from one internship to the next. Through my paid internship with NBC Universal's Operations and Technical Services, I was able to meet the spectacular teams in broadcasting and executive management from New York and Los Angeles, including the company's CEO, Steve Burke.
What is your favorite memory at The College of New Jersey?
My favorite memory was starting the Student Film Union in the Fall 2011 semester. That year, I served as the organization's President as well, and I am currently the Treasurer now. I wanted to create an organization for students and faculty alike who are interested in film. What sticks out most to me is the first interest meeting that was held for SFU. I led the meeting myself, which alone was a lot of pressure, but I couldn't believe the turnout we got! The meeting took place in a classroom in the Social Sciences building, and it was packed with students who all shared the same interest and passion for film as myself. In the first two weeks of this semester alone, we have over 140 new students who signed up for SFU membership!
I also worked with Dr. Donald Leake, the chair of E.A.S.E, to produce the successful video pilot series that highlights TCNJ's academic departments, such as the Educational Administration and Secondary Education Department. That has been a great experience as well, and is another accomplishment at TCNJ that I am proud of.
Where does your inspiration come from?
Much of my inspiration comes from just trying to figure out life. I am driven to build a foundation for an amazing career, but I know it all starts with my hands and my ambition. No one else is going to the work for me.
My peers are inspiring too! It's a great feeling to be surrounded by incredibly talented and creative people. It energizes me. I am always encouraged to take my creative ideas to the next level because I know that we support and appreciate one another.
What is your career plan? Where do you see yourself in five years?
People always say that it's difficult to find work after graduating, especially with the economy the way it is now. But I'm passionate about film editing, and I'm not worried about finding work. In five years from now, I see myself producing TV shows for major networks. Or maybe I will even be an editor or filmmaker at an award-winning Sundance Film Festival. I know it's a high goal to set for myself, but the Communication Department at TCNJ has helped me build up the confidence in myself to make those kinds of achievements in my future.
What is your advice for other Communication Studies students?
The most important thing is to find your voice and your own character, and stick to it. Always stay open-minded, but don't sway from yourself and who you are. Take what you are doing seriously and commit to it, and invest your time in something that you truly care about. Surround yourself with people who support you and what you are doing, rather than those who may discourage you from your goals. Find ways to have others recognize your work, and always strive to be better and greater than your last accomplishment.
The faculty in the COM department care about their students. We are not new names soon to be forgotten by the end of the semester, or faded grades in last year's records. We are appreciated, and our professors take time out to invest in those who accept it. They host a wealth of history, accomplishments, and wisdom. So, it's important to take advantage—talk to them and learn inside and outside of the classroom. I am grateful for the resources that are available to me, and all students should take advantage of TCNJ and the Communications Department has to offer.