Name: J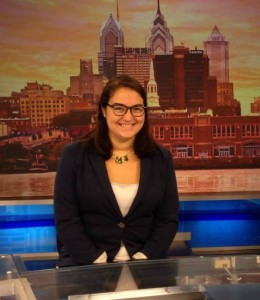 aqueline Ilkowitz
Hometown: Livingston, NJ
Major: Communication Studies: Radio, Television and Film; Minor: Interactive Multimedia
Graduation Year: May 2015
Organization Involvement: Communication Studies Student Advisory Board Co-President; Lambda Pi Eta-Communication Honor Society Vice President; Lions TV President/Station Manager
How did you first become interested in Communication Studies?
Growing up, I always had a video camera in my hand. I spent countless hours making silly spoof videos with my friends, singing along to music or making up plays. I think this was really what launched my interest in communication and, more specifically, in television production. I also really loved that a television show was capable of bringing my very diverse family together, even if it was just for 30 minutes. There was always something each of us could find in a television show that we could relate to, which brought us closer. That really is quite special.
When I was in high school, I had the opportunity to enroll in a three-week summer class at Ithaca College that focused on television and radio production. This allowed me to converse with professionals, and really opened my eyes to what television production could look like as a career. When it came time to apply for college, I was set on Communication Studies, and selected TCNJ for the small student to faculty ratio and the extracurricular opportunities that were available, such as Lions TV. At TCNJ, I was able to be hands-on, very involved, right away, which is pretty unique.
Tell us about your various internship experiences and how they have helped you in your career development.
Most recently, I was the Planning and Programming as well as a Talent and Anchor Relations Intern at CNN Headline News. I traveled to New York City twice a week, and was responsible for working on program development, pitching potential talent and guests, and monitoring social media. It was so fast-paced and frantic, and I loved it! Before that internship, I had the opportunity to intern at Comedy Central, which was awesome. I worked with two other interns to present a competitive analysis on how competitor networks were using Snapchat. I had to make this presentation at least five times and to the largest room of at least 60 people- some were even video conferenced in from LA. This experience really helped me get over my fear of public speaking, and now I feel quite confident if I have to present in front of large groups of people.
I'm also the Executive Station Manager for Lions TV, where I oversee all the projects taking place and work with the members to make sure programs are staffed and we have people covering everything that needs to be. It's certainly taught me a lot about supervising others!
Who has been your greatest influence or supporter throughout your journey at TCNJ?
Absolutely my parents, they have been so supportive and influential throughout my college experience. They have both been incredibly hard workers their entire lives, and I learned a lot through observing their work ethic and perseverance.
Aside from my family, the Radio/TV/Film faculty have been an incredible support system. Terry Byrne, Susan Ryan, and Lorna Johnson all go above and beyond to encourage me, guide me, and offer advice and wisdom. I feel that I have wonderful relationships with each of them that will continue throughout my lifetime. That's just how it is in this department, and that's how Terry, Susan, and Lorna are. It's very special.
And of course all of my friends here at TCNJ- I couldn't have asked for a better or more supportive group of people who have encouraged me to follow my dreams and work my hardest throughout these past 4 years.
What memory at TCNJ has been important to you?
Definitely watching Lions TV grow! I'm pretty proud of that. It started out as a small group, maybe eight people, and now there are over 60 members with a lot of different projects happening. Every Wednesday we film segments on music, comedy, sports, and news, which air on Lions TV (campus cable channel 17) and our YouTube channel (www.youtube.com/user/LionsTVatTCNJ). It's fun to reflect back on the past four years and see how not only the group membership has grown, but also how we as individuals and professionals have grown as well.
What are your future plans?  
This is a tough question! I'm keeping all my options open within the field of television production. I like to think that I thrive in hectic and exciting situations, so I plan on relocating to New York City after graduation. Right now, I am applying to anything that piques my interest–content strategy, planning and development, creative services, you name it!
What advice do you have for current or prospective Communication Studies students?
This is a major for very self-motivated people. No one is going to come to your room, knock on your door and ask if you want an internship. You have to be willing to put yourself out there, take chances, and take advantage of every opportunity that comes your way. If there is an alumni speaker on campus, go to it! Even if they aren't working specifically in an area you have interest in, go hear what they have to say. I guarantee that you will learn something useful. Also, join clubs and organizations that will help you reach your goals!
What is your favorite TV show? Definitely Saturday Night Live, Parks & Recreation, and Arrested Development. I have a lot in my Netflix queue!
Book? Probably Bossypants by Tina Fey.  She's funny, smart and an inspiration for any woman interested in comedy!
What are your hobbies? My work is my hobby! I really enjoy watching and learning about television. Other than that, I like to cook, read and just hang out with my friends.
Food? Cannoli. How about Vodka Rigatoni? Or both.
If you could have any super power, what would it be? Teleportation! I would love the ability to travel all around the world.