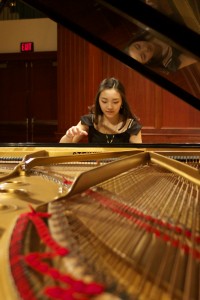 Name: Tiffany Yu
Hometown: Rockaway, NJ
Major: Biology, Music Minor
Graduation Year: May 2017
Organization Involvement: Animal Benefits Club; Animal Laboratory Assistant
How did you first become interested in pursuing both biology and piano?
When I was a kid, my mom signed me up for a few piano classes. At first I didn't really enjoy it, it was hard and even boring at times. But, as I got older, I began to appreciate it more and more. When I was in middle school, I switched teachers and my new teacher really inspired me. She was really involved in my learning and encouraged my success, which I really think helped solidify my love for the instrument. In high school, I took part in a few summer music festivals where I interacted with really intelligent and talented musicians, which helped me realize I wanted to keep playing piano in college.
I'm really interested in biology, and feel confident in selecting a science as a major. I have a deep passion for music, and I think that minoring in music is a perfect fit for me. I feel grateful that I'm able to pursue both of my interests and have the support of both the Biology Department and Department of Music in doing so.
Tell us about your various internship experiences and how they have helped you in your career development.
I'm really fortunate in my performance experiences. I have had the opportunity to play numerous times at both Carnegie Hall and the Lincoln Center. It's a little surreal! I keep thinking of all the great musicians who have played on the same stage, and I'm honored to have been a small part of the history of those great spaces. Each time I play there I always make sure to remind myself to not waste the moment, be present, and enjoy the opportunity.
At TCNJ, I have participated in two piano recitals, this spring and last spring. I have also been a guest performer during a Senior Recital, as well as in the Department of Music Showcase during Accepted Students Day. Each of these performances has allowed me to increase my confidence and have allowed me to grow both personally and professionally. I have met truly wonderful people through music, and I am quite grateful.
How has your experience been balancing being a biology student with being a dedicated pianist?
Balance is so important. I try to practice piano about an hour and a half daily. When I am particularly busy, I try to practice for at least a half hour. On top of classwork, I also work in the on campus snake lab with Dr. Reinert, which also takes some time, but it's pretty cool that I get to be a part of that.
This coming summer, I will be doing research with Dr. Murphy regarding the connection between sound and frog recognition of gender. It's funny, sound plays such an important part in life, whether I know it or not! But, yes, I have to make sure I balance my major course requirements with the requirements necessary to perform.
Who has been your greatest influence or supporter throughout your journey at TCNJ?
Absolutely my parents! My mom has been to all of my performances at TCNJ thus far and my dad was at all of them last year. They are really supportive of my ability to pursue both biology and music in college and always encourage me and support me. Dr. Kanamaru is also wonderful. She recognizes my interest in two very different areas of study, and helps me to modify my performance selections to ensure that the performances are done well. She really understands the demands of performing live, and has helped me grow professionally. Also, I have some wonderful friends in the biology department who really help me manage the demands of the program.
What memory at TCNJ has been important to you?
Good question! I think probably this most recent spring recital. I chose a particularly challenging piece to perform, Liszt's Spanish Rhapsody, and I really felt proud of my accomplishment, as well as the accomplishment of the entire studio. Everyone performed so well, which is always really encouraging.
What are your future plans?  
I plan to pursue medical school, possibly neurology. I will also continue to play piano and keep performing. I'll always love music, I don't think anything can change that!
What advice do you have for current or prospective students who are interested in pursuing programs within two different schools of study at the College?
It is most important to know that it is absolutely possible! It requires a lot of hard work and the ability to balance each of your responsibilities. Time has to be made for both programs of study but also there has to be time for yourself and time with your friends!
What is your favorite TV show? The Office
Movie?  Boyhood
Book? 1984
What are your hobbies? Piano, animal involvement, hanging out with friends
Food? Sushi
If you could have any super power, what would it be? Teleportation!