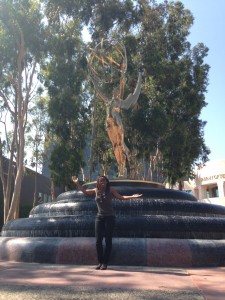 Name: Nicole L. Thompson
Age: 22
Hometown: Newark, NJ
Major/Minor: Communication Studies (Radio/TV/Film Track), Integrated Performing Arts Minor
Graduation Year: 2014
How did you first become interested in TV and Film?
Well, that really started for me at a very young age and I give credit to God for guiding my footsteps to the career that I have now. I know for certain if it had not been for the Lord, I would not be where I am today. My interest in film actual began from taking classes. Education is very important to my family, and when I was 13 or so I enrolled in pre-college courses at NJIT each summer.  One year they gave us an option of taking a Video Production course where I made my first documentary, a spotlight on my brother. That summer was really an introduction to the field and focusing on learning video production and the editing software Final Cut Pro. I loved every minute of it, and it was during those classes when I realized I could actually have career in this field. As a kid, I only watched TV and film so for a very long time I was only a consumer, but while creating it, I soon realized this was something that I could make a living doing.  The final moment when I knew that I wanted to pursue this field was during a trip to South Africa as a high school freshman. While in South Africa I saw a country that was so beautiful in some parts but was filled with disparities in other parts. There were children wandering the streets and living in shanties. I didn't have any video equipment with me, but I knew the world needed to see this. I wanted to show everyone what life there was really like, all the social injustices taking place. It is from that experience I wanted to spend my life making films that will help make a difference or tell the stories of those who do not have the ability to do so.
Did you continue to experiment with film as you got older?
Yes, definitely. My high school, Malcolm X Shabazz High School in Newark had a Video Production Academy that I was very involved in. I took several video classes and participated in competitions there over the years. When I was a senior in high school I won a competition that actually aired my public service announcement on TV. I was also the camera operator for The Homework Hotline Show, a live call in TV show on Cablevision where kids got homework help right over the air. After working there for a few years, I was able to move on as a technical director and camera operator on The Mic It Up Show, a live performance show for high school students in Newark.
So you knew right away what you wanted to major in at TCNJ?
Without a doubt! I knew I wanted to study in film and television, so I majored in Communication Studies with a concentration in Radio/TV/Film. While here I've worked on some really great documentaries including Hear My Story, which focused on the impact of the arts on urban youth. I also worked on This is Trenton Life during my junior year, which focuses on a group of theatre students from Emily Fisher who attended the Mill Hill Playhouse in Trenton and created a play about their city. They were both wonderful experiences, and I really learned a lot about the people and the city of Trenton—mainly that the issues that they face day to day don't define who they are or where they are from. It is up to us as filmmakers to open the eyes of those viewing our documentaries to help spread awareness of these issues.
What did you do for your senior thesis?
I created a thesis film, Blossom, a tale of a girl who faces sexual abuse and her journey as she tries to face her abuser once and for all. It was screened at TCNJ's Campus MovieFest where it was nominated for Best Drama and won Best Actress.
Have you had any internships during your time at TCNJ?
 As a Bonner Scholar, I worked for the Bonner Center as a media relations intern. I created promotional videos for the Center and some of our community partners such as Habitat for Humanity. I also worked for The College of New Jersey filming live sporting events and editing together packages for the school's webpage. Likewise, interned at NBC Universal in my senior year as one of The Ed Show's anchor producer. The following semester I worked as a postproduction intern on CNN's Chicagoland produced by Brickcity TV LLC. That was when I got my first TV credit. It was an unbelievable moment to see my name on the TV with the credits on the last episode.
What other international experiences have you had since South Africa?
 As a Bonner Scholar, during my junior year I traveled to Nicaragua to do community service for three weeks. While here I created a documentary focusing on the Bonner Scholars serving the community with hopes of making an impact. Also, I was fortunate enough to study filmmaking abroad in England during my junior year. While there, I created a documentary titled Working for A Change. Since my first trip out the country to Africa, I have gotten a travel but. I love traveling the world and seeing new places. I've been to 10 countries so far including South Africa, Scotland, England, Ireland, France, Spain, Italy, The Netherlands, Nicaragua, and Jamaica. It is my dream to travel the world and document the different places so that people can learn about a different culture and also shed light on some of the social justice issues that nations are facing. It is my hope that my films can open the world's eyes to what's going on so that a change can be made for the better.
Who have been your biggest supporters in fulfilling your dream?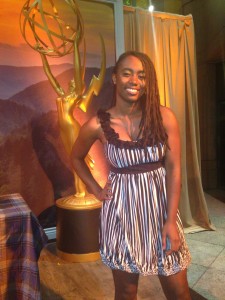 My parents have been extremely supportive of my decision to go into the arts. They have always been so encouraging of whatever I wanted to do. Their support helped me become valedictorian of my high school graduating class. Likewise my family, friends and church members have all played a role in supporting and guiding me. When I entered college, Dr. Susan Ryan, who was my advisor the two documentaries following the arts in Trenton, has been my close faculty mentor. Likewise Mr. McCrary who was my EOF advisor guided me immensely over the years. One additional supporter is Tyrha M. Lindsey. She is an Alumni of the Academy of Television Arts and Science internship and she has not only helped me with my application process but also has connected me with so many of her friends in the industry.
What are you doing now?
Currently, I'm working at a paid internship in Hollywood, California sponsored by The Academy of Television Arts and Sciences Foundation.  It is considered to be one of the most prestigious internship programs in the entertainment industry, with nearly a thousand applicants for only 40 spots. The competition is fierce and we each work for 8-10 weeks in high profile studios and production companies around Los Angeles in areas such as directing, editing, cinematography, movies for television, costume design, animation, and game show production. Often being chosen as one of a hundred finalists is something that applicants can highlight on their resumes.
I am the only winner in the history of this internship to hail from The College of New Jersey and I hope many more from TCNJ will win it in the years to come. I am working with Stan & Deliver Films, under the advisement of Stanley M. Brooks, who is an amazing Director and Executive Producer. He has made over 65 films and has won an Emmy, along with many other awards. I also work very closely with my supervisor Gia Ghadimian who has taught me a lot in such a short period of time.
I just worked with Macy Gray on her new video, "Bang Bang" as the key production assistant, reporting directly to the director. It was such an awesome experience, and I even got to shoot some of the video that made it to the final cut, pretty unheard of for an intern. In addition while interning here I had the opportunity to work as a production assistant on Lifetime's film, The Whitney Houston Story, with Director Angela Bassett.
The internship ends on August 31, so I am currently looking for other work, and I am excited about all the great things to come!