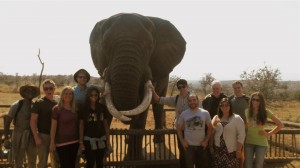 Ewing, NJ: What do Nelson Mandela, Clint Eastwood, the grandson of Mahatma Gandhi, and The College of New Jersey all have in common?  To offer themselves, their clients and friends the exploration of a lifetime, they all found the best guide in South Africa: Barry Fuller. Nelson Mandela asked Barry to guide visiting dignitaries in the province of KwaZulu-Natal. Clint Eastwood requested Barry's services to escort Morgan Freeman and Matt Damon during the filming of "Invictus", a movie about South Africa's world championship rugby team.  Arun Gandhi acquired Barry's expertise to create a  South African tour: "In the Footsteps of Mahatma Gandhi". Communication studies professor John Pollock of The College of New Jersey enlisted Barry to guide ten TCNJ students this summer in a health communication internship in Durban, East Africa's largest port, on the Indian Ocean. Pollock's students flew to Durban to learn about ways South Africans use "Entertainment Education" (TV, radio, song, dance, drama) to fight gender-based violence and AIDS.
Arriving in Durban, apprehensive TCNJ students encountered an unexpected delight. The family team of Barry and wife Elizabeth Fuller warmly immersed the new travelers into their "deep discoveries" explorations. Whether showing visitors the sweeping sandy beaches of Durban's coastline or the nearby precarious squatter settlements, Barry Fuller shines in narrating neighborhood and regional histories at multiple levels, illuminating social, political, and economic inequalities. Wherever he shows visitors, he maintains an attractive generosity of spirit toward people from every social condition.
"Deep Discoveries" tours cover a wide variety of cross-cultural encounters, but quality is never sacrificed. The options range from visiting the Dragon Mountains near Durban, crossing the high Sani Pass into the Kingdom of Lesotho to treks in tawny-colored hills and bluffs at Giant's Castle to visit Bushman cave paintings.  Personalized tours help visitors meet elephants, giraffes, impalas, zebras, hippos, rhinoceroses, Cape buffalo, and lions. Convinced that every client deserves a customized experience, Barry even cooks memorable barbeques!  A traveling concierge, he transforms every client into a personal friend.
Barry is no stranger to accolades.  The son of a guide who started the family business in the 1970s, he has been a popular vice chairman of Durban's tourist guides association, and in 2005 he was runner-up for the title of South Africa's "Emerging Businessman of the Year". As a family team, Barry and Elizabeth boast five fluent languages between them, including, in addition to English, Afrikaans, Italian, French, and Zulu.
First exposed to the Barry Fuller "deep discoveries" experience in July, 2012 (and then returning with TCNJ students in 2013 and 2014), professor Pollock was extravagant in his praise: " I have visited China, Korea, Singapore, Germany, Spain, France, England, Greece, and Italy. I spent a year in India in the US Foreign Service. ten months in Bogota, Colombia, for doctoral dissertation research, and almost three months in Buenos Aires, Argentina, as a Fulbright Scholar.  In all of those visits, I have engaged several guides. I have never, ever, encountered a more intelligent, engaging, well-informed storyteller than Barry Fuller.  He deserves a special award as one of South Africa's national treasures."
Elaborating professor Pollock's evaluation, several TCNJ students participating in this summer's 2014 health communication internship agreed.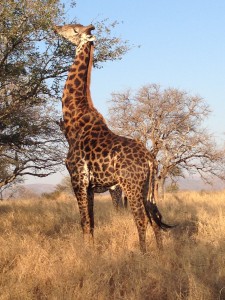 Everyone Wants the Best
Jack Werner:
"Through both his candid demeanor and intellectual knowledge about contemporary politics and sociology in South Africa, Barry Fuller has provided an incredible experience only matched by the people I have been privileged to travel with."
Jim Etheridge:
By the end of the trip, I found myself looking forward to the car rides as much as the actual destinations. Barry has the ability to turn his van into a classroom; his breadth of knowledge concerning South African culture, history, and current events is nothing short of captivating. I don't believe my trip would have been as inspiring without it.
Hope Peraria:
"Barry and Elizabeth are so knowledgeable. When you ask a question, their answers are insightful, intelligent, and extremely well-informed.  They convey an easily understandable history lesson that is also fun."
Kyle Bauer:
"Traveling with Barry is like accompanying an informal, street-level sociologist or cultural anthropologist.
A Second Family Is Waiting
Isabelle Tan:
"I always feel comfortable and informal around Barry and Elizabeth. I am eager to ask questions and learn more. From their knowledge of the past and current events, the family team invites curiosity and excitement.  Knowing more takes away the worry about being in a new culture. By the end of the trip, you feel like a local."
Hope Peraria:
Both Barry and Elizabeth are very caring and responsive to client needs and worries.  Every time I bring up a concern, they are unusually emotionally supportive. They offer "culture" without the "shock".
Edward Bannister-Holmes:
"Barry and Elizabeth give me the impression I am on vacation with friends. They are fun to be around and knowledgeable as well, caring and accommodating.  The friendliness of Barry and Elizabeth is matched by that of their business associates, who are equally friendly and gracious. When I return to South Africa, I will call Elizabeth and Barry before anyone else."
Kyle Bauer:
"On a trip with Barry and Elizabeth, you're not being led around by strangers. It feels like being on a trip with family members. Seeing you excited gets them excited. Wherever they go, Elizabeth and Barry are greeted with hugs."
Affordable Adventure
Chris Davis:
"Barry picks experiences that are extraordinarily entertaining and life-changing at a reasonable price. At the game reserve, we saw more exotic animals than are held in some zoos, for example: elephants, giraffes, rhinoceroses, hippos, wildebeests, Cape buffalo, zebras, lions, and even cheetahs.  We even reached inside an elephant's mouth and touched his tongue!
Leah Greif:
"I like the personalities of Barry and Elizabeth.  The way they conduct their tours is unusual and affordable. Their knowledge of culture and history is both highly informative and fun.  They answer every question with thorough, in-depth yet entertaining answers."
Tom Nordquist:
"When Barry's your tour guide, you don't feel as though he is wearing a name tag. He is also street-smart. He pulls back the curtain on culture shock.  What a bargain!
Contact Information for "Deep Discoveries":
www.facebook.com/deepdiscoveries
barryfuller@rickshatours.co.za
Tel. 0027-83-452-2958