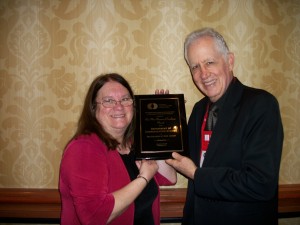 On Friday, November 22, 2013, TCNJ won the national Rex Mix Program of Excellence Award for best undergraduate communication studies department in the US.  The award was given to TCNJ professor John C. Pollock by professor Armeda Reitzel, vice chair of the Undergraduate College and University Section (UCUS) of the National Communication Association (NCA) at that organization's annual conference held November 20-24 in Washington DC.  Professor Pollock, former chair of the TCNJ Department of Communication Studies, had written the winning award application.
Dr. Reitzel  announced that "The College of New Jersey merits the Award because it demonstrated pronounced 'markers of department excellence' highlighting curriculum, faculty-student engagement, student academic and professional success, and faculty commitment."  Professor Reitzel expressed admiration for the extraordinary achievements of what is currently a seven-faculty program that counts among its students 272 majors, nine secondary majors, thirty-seven first minors and 3 second minors, for a total of 321 total communication studies students. According to Professor Reitzel, the following represent key 'markers' of department excellence.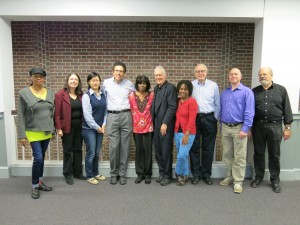 "The department has a very clear statement of goals and mission (fostering a 'culture of commitment to student-faculty engagement'), provided evidence about how they understood and implemented their plans and had extensive evidence to support those claims.
" The program emphasizes (both) theory and application in a variety of settings for human and mediated communication.  Three noteworthy specializations are offered:  Public/Mass Communication, Radio/TV/Film, and Corporate/Organizational Communication, along with an interdisciplinary concentration in Health Communication.  The department has strong professional and graduate school placement records.
"The department … work(s) toward including cutting-edge topics such as urban dislocation, health communication, and media coverage of AIDS in Africa. The Mentored Undergraduate Summer Experience (MUSE) summer program (collaborative student-faculty undergraduate research) for students is an excellent characteristic that further emphasizes the research culture in this department, which also funds documentary media production to foster outreach and community empowerment.
"The existence of a public health communication club is a rare inclusion in undergraduate departments and stands out.  The South African health communication internship is a solid start in internationalizing the program.
"This is a rich, high-quality department.  It is clear from the submission that the department has high standards for teaching.
"The depth of student-faculty collaboration is apparent through course work activities, state and national research, student outreach and mentoring, and the establishment of personal relationships during these endeavors. It is clear that the institution is selective, and there is a developed culture of student-faculty research threaded throughout the program.
"The degree of self-examination and coaching-in-teams structure is cutting-edge and also reflects the work culture that many students are entering. This structure is valuable preparation for graduate school or professional careers."
"The College of New Jersey is a deserving recipient of the Rex Mix Program of Excellence Award.  Congratulations!"
Receiving the Rex Mix Award, Professor Pollock expressed gratitude to the Undergraduate College and University Section of NCA, and appreciation for colleagues in the TCNJ Department of Communication Studies who together have helped the department become a "national leader in student-faculty engagement".  Commenting on the Award, Professor Lorna Johnson, department chair, said: "We are delighted that our commitment to student-faculty engagement and the empowering results of that commitment have been recognized at the national level.  We are grateful for the encouragement offered by this award."