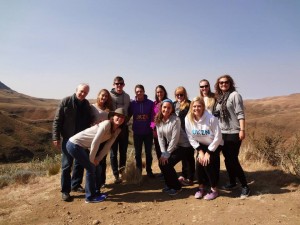 In the opening of his classic work on apartheid, "Cry, the Beloved Country", the great South African novelist Alan Paton wrote about the province of KwaZulu-Natal: "There is a lovely road that runs from Ixopo into the hills.  These hills are grass-covered and rolling, and they are lovely beyond any singing of it." For three weeks in August, 2013, ten students (eight from TCNJ) and Communication Studies Professor John Pollock visited Durban's University of KwaZulu-Natal to explore the way South Africans use "Entertainment Education" (TV, radio, song, dance, drama) to attack gender-based violence and fight AIDS.  The faculty-led student internship mixed adventure with teaching university students, scenery and animal safari tours with field work, visiting high schools where peer counselors were trained to help young men respect young women and promote self-respect among young women themselves.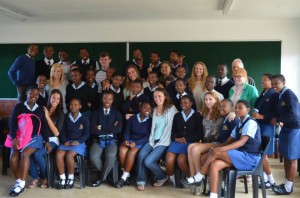 The TCNJ Department of Communication Studies has earned a reputation as a "national leader in student-faculty engagement", and Dr. Pollock created the South African health communication internship determined to reinforce that reputation. Initially meeting South Africa's leading expert on "Entertainment Education" to fight AIDS, Dr. Keyan Tomaselli, in Mexico City in 1999, Pollock laid the groundwork for a student visit to Tomaselli's University of KwaZulu-Natal (UKZN) during another international conference in July, 2012, in Durban, located on the Indian Ocean. He designed an internship program to maximize several kinds of engagement:
Advance preparation at TCNJ:
Special Course: Pollock created a spring, 2013, advanced student-faculty research course on "Entertainment Education", using existing entertainment channels, whether "mediated" (TV, radio) or "public"  — directly experienced (song, dance, drama) to convince audiences to adopt less risky behavior.  A major success story in South Africa is the ongoing TV drama "Intersexions", portraying young professionals in Johannesburg negotiating safe sex in a world of serial partners.  Funded by Johns Hopkins, USAID, and the (US) President's Emergency Plan for AIDS Relief (PEPFAR), "Intersexions" became the most popular TV drama in all South Africa, winning a Peabody Award for excellence. "Entertainment education" assumes that audiences will pay more attention to messages embedded in ongoing popular forms of entertainment than to short-term public service announcements or ads.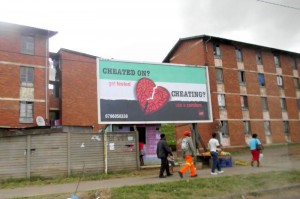 Distinguished Speaker: Dr. Arvind Singhal, the leading entertainment education scholar in the US, came to TCNJ in spring, 2013, to discuss rescripting popular TV and radio programs worldwide to insert narratives advancing the rights of women, reducing gender violence, and promoting less risky behavior in fighting AIDS..
In South Africa:
Student and Faculty Presentations: Two of TCNJ's experienced students (Jordan Kohn and Kelsey Zinck) and Dr.Pollock made separate quantitative methods presentations to honors and graduate student communication seminars led by Drs. Keyan and Ruth Tomaselli at UKZN, where local students bestowed affectionate, astonishingly accurate Zulu names on TCNJ students, a warm, playful courtesy. Pollock lectured to another class on cross-national health communication, and we attended a master's presentation on government efforts to restore tourist guest houses along the province's Ivory Trail.
Field Work: Through the good offices of two US-funded groups based at UKZN, the visiting students engaged in unforgettable field work.  Through Info4Africa, which updates information for the public on local services available nearby on rape counseling, family violence,  abortion and condom availability, etc., information downloadable on cell phones, TCNJ students visited an AIDS hospice, which also served as a daily food distribution center for the surrounding community.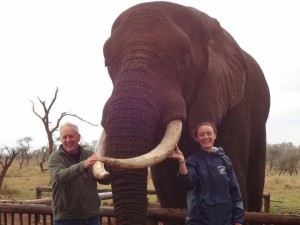 Through DramAidE, which promotes "participatory communication" (unlike the one-way communication of TV or radio) the US students visited three (segregated under apartheid) township high schools accompanied by expert facilitators. We expected to be "observers", but the facilitators insisted we join young student "peer counselors" to engage in role playing regarding such situations as boyfriends using violence to force sex, teachers engaging in inappropriate touching, or violence within the home. At Ekwazini HS in Umlazi township, we were struck by the wisdom, intelligence and pain of the young people, and when photographs were taken afterward, the visitors were swarmed by dozens of students who threw their arms around the newcomers cherishing the visit. What came next was surprising. The students led the US students to a "song and dance" practice for an upcoming competition. The a cappella music was multi-harmonic and polyrhythmic, with entrancing repetitive drone tones; bass runs, and one or more performers calling out melodies. Sung in Zulu, the rolling, pulsating, soaring harmonies filled listeners with wonder. It was later learned that the local students had won their regional song and dance competitions.
Adventures. Learning activities aside, TCNJ students pursued memorable adventures. Their guide showed them Durban itself, where monkeys are as ubiquitous as squirrels.  They journeyed to the Valley of One Thousand Hills, where students ate crocodile burgers in a crocodile pit, then handled pythons.  They visited the Dragon Mountains, trekking through verdant hillsides to ancient cave paintings at Giant's Castle. The visitors transferred to 4X4 vehicles to climb steep, unpaved switchbacks up to the Sani Pass, among the highest passes in Africa, into the tiny kingdom of Lesotho, visiting a family in a traditional hut.  Several students engaged in surfing lessons, bungee jumping in the modern soccer stadium, confronting sharks in a shark cage, crossing a perilous, swaying suspension bridge, and zip-lining from a high bluff down several stations (and over a variety of animals) to Lake Eland..
The most exciting expedition, however, was a two-night tour to a lodge in the Hluhluwe game reserve, Bayete Zulu, where rangers drove students on safaris in specially-designed Land Rovers. They saw impala, zebra, ostriches, wildebeests, giraffes, hippos, and wart hogs, as well as three of the "Big Five" animals: rhinoceroses, lions, and elephants (the other two are Cape buffalo and leopard).  The setting was as much a part of the experience as the animals. The game lodge offered tile floors everywhere and an infinity pool overlooking miles of tree-lined landscape stretching to distant purple mountains.
To summarize their experiences, student teams fashioned four topics related to reducing AIDS, writing extended, highly structured essays on: child brides, gender disparities/violence, mother-child transmission of AIDS, and medical male circumcision. Dr. Tomaselli will return the TCNJ visit, lecturing at TCNJ the first week of November, 2013, and Dr. Pollock is scheduling another South African internship for next June, 2014. Like the rolling hills of KwaZulu-Natal, the experiences of TCNJ students in South Africa were lovely beyond any singing of it.