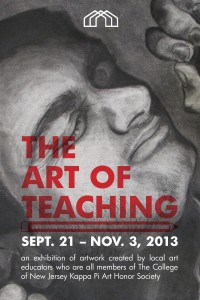 The Art of Teaching is an exhibition two years in the making: a collaboration between the Education Gallery at Grounds for Sculpture and the Art Honor Society at The College of New Jersey (Kappa Pi).
The artists in this exhibition seek to find the connection between the work they do as both artists and educators. On view are a wide array of artistic creations from art educators and the students they work with. Viewing these works in proximity to each other allows us explore how an art teacher's personal art making processes and philosophy can influence their teaching practices and thereby the creations of their students. Sometimes the creations are technical, but more often they are connected to a broader cultural idea. Every artist, and by extension every teaching artist, has his or her own unique artistic interests, which ultimately can connect with the lessons they teach. This concept is explored in a range of media, including drawing, painting, collage, and fiber art.
In addition to the twenty K-12 art students highlighted in the show from New Jersey and abroad, the four participating artists are:
Kelsey Long
Matthew Pembleton
Anne Ruffner
Danielle Sarnowski
Grounds For Sculpture
Art of Teaching
September 21 – November 3, 2013
Opening: Sept 21, 1-3pm.
Education Gallery
Seward Johnson Center for the Arts
18 Fairgrounds Road, Hamilton, NJ 08619
Phone: 609.586.0616
Gallery Hours: Tuesday – Sunday, 10am – 6pm
More info at www.groundsforsculpture.org