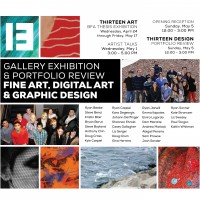 TCNJ's Art Gallery and Department of Art and Art History are pleased to present THIRTEEN, the BFA Thesis Exhibition, on view in the Art and Interactive Multimedia Building from Wednesday, April 24 through Friday, May 17. Artist talks will be presented on Wednesday, May 1, 3:00-5:00 p.m. The opening reception and design portfolio review will be Sunday, May 5, from 12:00 to 3:00 p.m.
The BFA seniors in the exhibition are Ryan Beebe, Kristin Blair, Bryan Borut, Anthony Chin, Kyle Czepiel, Ryan Czepiel, Kara Degeorgis, Johann Derflinger, Shannon Ehrola, Casey Gallagher, Liz Gerger, Ryan Janelli, Pam Marotte, Sam Prowse, Josh Sender, and Liz Swezey.
For more information, please visit www.tcnjthirteen.com.