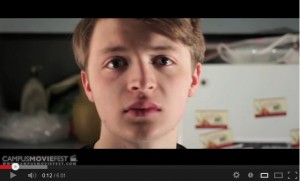 The College of New Jersey School of the Arts and Communication is pleased to announce that two of their students, Joshua Lewkowicz (Interactive Multimedia major, Communication Studies minor) and Andrew Kuserk (Interactive Multimedia) were awarded Best Picture, Best Visual Effects, Best Lead Actor, and an award for editing at the 2013 Campus MovieFest (CMF) award ceremony which took place last night. As a result of winning Best Picture, Lewkowicz and Kuserk have been given the opportunity to travel to a conference in Hollywood to screen their film and compete on a national scale.
Their five-minute film, "Focus," features a college student who attempts to balance his passion for art with the external pressures of his college-level academics. He chooses to illegally obtain ADHD medication in hopes of controlling his artistic inclinations; his creative drive has severely conflicted with his mundane classwork towards a degree he is not enthusiastic about. Ultimately, this plan does not pan out, and he is left with a difficult choice.
The world's largest student film and music festival, CMF is the only event of its kind that provides free Apple laptops, Panasonic HD camcorders, and training to students at participating colleges and universities around the globe. Students have one week to create their own five-minute movies, with each school hosting red carpet finales to showcase its top movies. The best of the best moved on to compete against hundreds of other top shorts at Campus MovieFest in Hollywood. CMF was sponsored at TCNJ by the Brower Student Center and the Department of Communication Studies.
Cast and crew of "Focus" include: Joshua Lewkowicz: captain, director, cinematographer, camera operator, Steadicam operator, editor; Andrew Kuserk: SpFX / animator, match-moving/compositing, rotoscoping (an animation technique in which animators trace over footage, frame by frame, for use in live-action and animated films), rendering; Steven Munoz: lead actor; Alyssa Mangel: producer; and Kimberly D. Horner: supporting actor.
To watch "Focus," please visit http://youtu.be/JmcvurbnM5Y
To learn more about Campus MovieFest, please visit http://www.campusmoviefest.com/