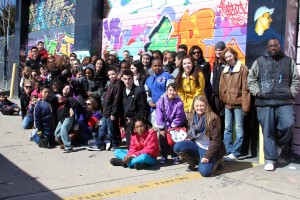 For the typical college student, Saturdays are for sleeping in, lunch with friends, and catching up on missed episodes of favorite TV shows. That is not always the case, however, especially for Ashley Garguilo (Art Education,'14) and a select group of TCNJ freshman, all of whom spent a recent Saturday with 35 youth from the Trenton Public School System learning about and studying art and the community. Organized by Garguilo and orchestrated by a team of students and two dedicated Trenton community organizations, the day was filled with learning, thinking, and reflection.
Garguilo, a Bonner Community Scholar, kept the College mission of being a "national exemplar in the education of those who seek to sustain and advance the communities in which they live," in mind while planning the day. Called Community Engaged Learning (CEL), freshman students are required to participate in a meaningful experience during their first year on campus. The vision is that all will return and participate in more advanced class-based projects during their final three undergraduate years.
The day began by Garguilo, TCNJ students, and Bonner representatives picking up the youth and heading to SAGE (Stylez Advancing Graffiti's Evolution) Collective in Trenton. SAGE is a non-profit dedicated to initiating, planning, and establishing inner-city beautification projects. Formed in 2012, it has grown into a diverse group of visual artists, engineers, fabricators, musicians and teachers dedicated to the rebirth of Trenton. At SAGE they connected with Will "KASSO" Condry, a Trenton mural artist known for his unique and vivid portraits and aerosol based murals.
Condry explained SAGE's projects to the students and took them on a tour of their own hometown, hoping they would be able to view it in a vastly different way. One stop on the tour included the Ghandi Garden, located at 223 East Hanover Street. The garden is a mix between a garden, art gallery, venue, and public park. The park and the beautification process of the space stems from the famous Mahatma Ghandi quote, "You must be the change you wish to see in the world."
After more discussion, the group headed to Artworks, Trenton's downtown visual arts center and sponsor of Art All Night. Artworks is not simply a gallery space; many events, classes, and programs unfold there, and part of the mission is to continually look to provide opportunities for building and developing community through the arts. Led by Executive Director Lynn Lemyre, Artworks seek to build community among and between art students of all ages, professional and amateur artists, inner city and suburban residents, diehard art fans and first time art appreciators.
At Artworks, the youth were able to have lunch and wander through Control, Alt, Delete, an exhibition of paintings by TCNJ's Advanced Painting classes led by Professor Gregory Thielker. Students in the classes used the theme of contemporary art and digital media to create works that were based on digital sources, filters, and tools along with traditional techniques. Garguilo, who had works on display, encouraged the students to wander around and take time to look at each piece. The TCNJ students led exercises and spoke to the youth about their experiences. Lemyre was also on hand to facilitate discussions, and Condry had the youth assist him with spray painting pieces for a community mural.
The day was a success, students were bubbling with excitement and fascination with what they learned. When reflecting upon it, Garguilo said, "It was emotional for me to experience the reactions of the Trenton youth. They were seeing their town from a completely different point of view, and they were awed. It was a day I will never forget."
The Bonner Center, Artworks, and SAGE Coalition came together to inspire and enrich the youth and allow them to take part in a day they won't soon forget. In the future, Garguilo hopes for opportunities to expand on the day and create a series of trips for each of the middle schools in the area. For more information on the Bonner Center, Artworks, or SAGE, please visit:
http://bonner.pages.tcnj.edu/
http://artworkstrenton.org/
http://sagecoalitionnj.com/