This summer, students from the School of the Arts and Communication had the opportunity to gain hands-on skills through internships in a variety of areas. Below three of our students share their experiences.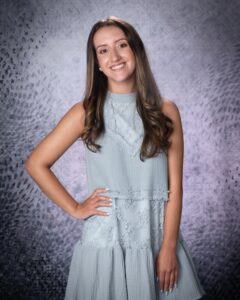 Samantha Schepelenko '24, a journalism and professional writing major with a minor in communication studies, interned at In/Spree Brands. Schepelenko learned about the opportunity on Indeed, applied for the position in April, was hired in May and started the internship right away.
"I have been working on a wide array of things including, finding new and exciting influencers who would work well with specific brands and have a passion for social media and product promotion," she said. "I also work on sales leads which is finding new brands for In/Spree to work with in the future and I am often tasked with creating profiles for the influencers. Also, always being knowledgeable of up-and-coming trends is very important for my role." 
Schepelenko said her experience with In/Spree Brands will help her as she pursues her career goals.
"I am gaining insight into the worlds of marketing, public relations and social media that I never experienced before. I am exploring different career paths where I can utilize my journalism major and communications minor," she explains. "All of the experience I am gaining this summer has broadened my horizons for my future career goals."
Melanie De Leon '25, an interactive multimedia major with minors in graphic design and marketing, interned at Grounds For Sculpture. De Leon learned about the opportunity on the not-for-profit organization's website while searching for a creative job and internship for the summer.
"I do a little bit of everything there but my main focus has been developing an educational self-guided tour for visitors. It primarily caters to K-8," she said about the internship. "For this project, I have done graphic design, photography, conducted research, and have test run it with the public! It is a mockup that will be passed on to the Graphic Designer to tweak and be placed on the website for the public to enjoy!"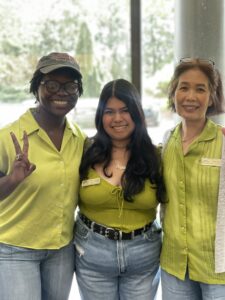 At TCNJ, De Leon has worked at both The Sarnoff Collection and Art Gallery. "The Sarnoff Collection was my first job and really helped me grow to work independently and know how to be efficient at the same time. Both of these jobs also helped me pick up an important skill which is strategizing, which has helped me a lot at my internship," she said. "The Art Gallery in particular helped me with my people skills, interacting with different age groups which is essential at Grounds For Sculpture." 
De Leon said her experience with Grounds For Sculpture will help her as she pursues her career goals.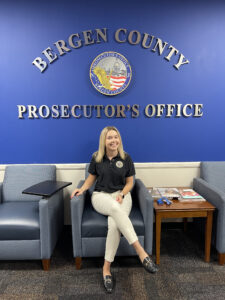 "I am not sure what my dream job is but what I do know is that I want to work somewhere I can be creative and still be involved in Tech in some capacity," she explains. "This experience has helped me by getting a feel of what working in the office is like. Designing more professionally, and researching. Hearing stories of Co-worker's career paths and gaining valuable advice as well has also been amazing and I think this experience has been very beneficial to me no matter what career path I end up following."
Victoria Tomczyk '24, a communication studies and criminology double major, interned with the Bergen County Prosecutor's Office. 
"During my time at the Bergen County Prosecutor's Office, I will get the ability to work alongside detectives, attorneys, police officers, victims and clerical staff in order to gain valuable knowledge from their personal experiences. Along with this, I will be able to see the courts and the work of a trial in terms of the preparation and the actual statements that need to be done," Tomczyk explained. "Having this experience under my belt will help me in terms of seeing the inner workings of a government level agency in terms of the cases they work on, what the process is like to be hired and how this differs from a municipal level agency. I think this experience will help me connect with other aspiring students that are also passionate about the criminal justice system."
Tomczyk learned about the college intern position at the Bergen County Prosecutor's Office from her previous internship.
"Last summer, I interned at a local police department where I worked for the detective bureau and I was able to see the behind the scenes action of a municipal agency. One day, I was able to visit the courts where I had the opportunity to talk to detectives about the work that they do, in terms of their cases and what the process to get to the Prosecutor's office was like, and what exactly is needed to conduct a criminal investigation," she said. "From there, I was hooked and when the applications came out in October of 2022 it was a no-brainer for me to apply and get a feel of a bigger agency."
Earlier in the summer, Tomczyk studied abroad in Italy during the Maymester
"Spending three weeks in this country I was able to explore a new environment where family, food, and religion were at the forefront," she said. "This experience also helped me in terms of my self-growth. Being outside of my comfort zone and not with my parents allowed me to be a more well rounded person."
– Meaghan Resta