Gary Fienberg, assistant professor of music and coordinator of brass studies, passed away on July 6 after a courageous battle with cancer. A trumpeter and ethnomusicologist, Fienberg joined TCNJ's music faculty in 2001 and taught intermediate and advanced level trumpet, jazz history and pedagogy, and "Music in Global Perspective." He also directed TCNJ's Jazz Ensemble. He chaired the Department of Music from 2007 to 2013.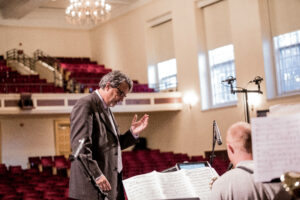 During the first week of classes this fall at the Music Welcome Meeting, Department Chairperson and Professor of Music Colleen Sears recognized her colleague.
"We're starting a new academic year, but I think it is important to acknowledge that many of us here today are struggling because we are moving forward without our beloved colleague, Dr. Gary Fienberg," she said.
Fienberg's dedication to TCNJ and our students was complete and inspirational. At the college, he was a pioneer of online instruction and played an instrumental role as a member of the Faculty Helping Faculty Hotline, which provided faculty with answers to questions about online modules during the COVID-19 pandemic. During the fall 2015 semester, he collaborated with TCNJ History Professor Jo-Ann Gross on an immersive experience in music of the Pamir (Tajikistan) with Visiting Professor Haydar Tavvakalov. In 2018, he brought renowned jazz and funk trumpeter Michael Ray to campus to work and perform with the Jazz Ensemble.
As a professional musician, Fienberg's performance experiences ranged from playing in the great concert halls of Europe to the orchestra pits of Broadway. He performed with a range of legendary artists: Aretha Franklin, Ray Charles, The Manhattan Transfer, Natalie Cole, Barry Manilow, The Temptations, Toots Thielmanns, and many others. Fienberg promoted British-style brass band culture in the United States and was a charter member of the Princeton Brass Band which became the National Champions of Brass Bands in North America in 2013.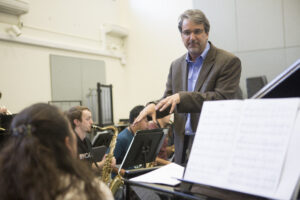 Fienberg is remembered by his colleagues and students for his diverse musical talents, his creativity, his warm humanity and optimism, and his infectious laughter. Following Fienberg's passing over the summer, students and alumni shared their memories of their faculty mentor.
"Gary was my professor and private trumpet teacher from 2008-2012. I had known him prior to becoming a student at TCNJ. He was the reason I decided to go to TCNJ to begin with," remembers Jonathan Yuresko '12. "Truly an extremely nice guy with incredible talent. He opened many doors for me and I will never forget him. It's an enormous loss for his family and the TCNJ community."
During the Music Welcome Meeting, Sears shared how at the services, Fienberg's son stated that his favorite poem was Robert Frost's "Nothing Gold Can Stay."
"Nothing Gold Can Stay reminds me of the ancient Japanese concept of Mono No Aware," said Sears, addressing the students, faculty and staff gathered in Mayo Concert Hall. "It's the idea that things are beautiful because they are impermanent. The sweetness of everything in life is that way because it is fleeting."
Sears explained how musicians "bring sound into existence, into the present, and then each note, each phrase, each composition concludes. The vibrations dissipate."
"If we're lucky, we get one of those special moments in performance, where the sound has dissipated but the experience of it somehow reverberates in our DNA," Sears said. "I want nothing more than to hear Dr. Fienberg's unmistakable voice in this building again, but I can hear it in my mind, conjuring the sound from nothing. I know he will continue to reverberate in this place, this space, and in all of us." 
A scholarship fund was established at TCNJ in Fienberg's memory and will support scholarships for Department of Music students. To contribute to the Tribute to Dr. Gary Fienberg TCNJ music scholarship fund, please visit this page.