TCNJ Lyric Theatre will perform "The Music of Jeanine Tesori" on Wednesday, April 12, 2023 in the Kendall Hall Main Stage Theater. The show will feature Tony-nominated actor Joshua Henry.
"The Music of Jeanine Tesori" is a musical revue featuring the composer's songs from musicals including "Shrek," "Thoroughly Modern Millie," "Violet," "Soft Power," and "Fun Home." Henry will perform three songs from his Tony-nominated performance in "Violet."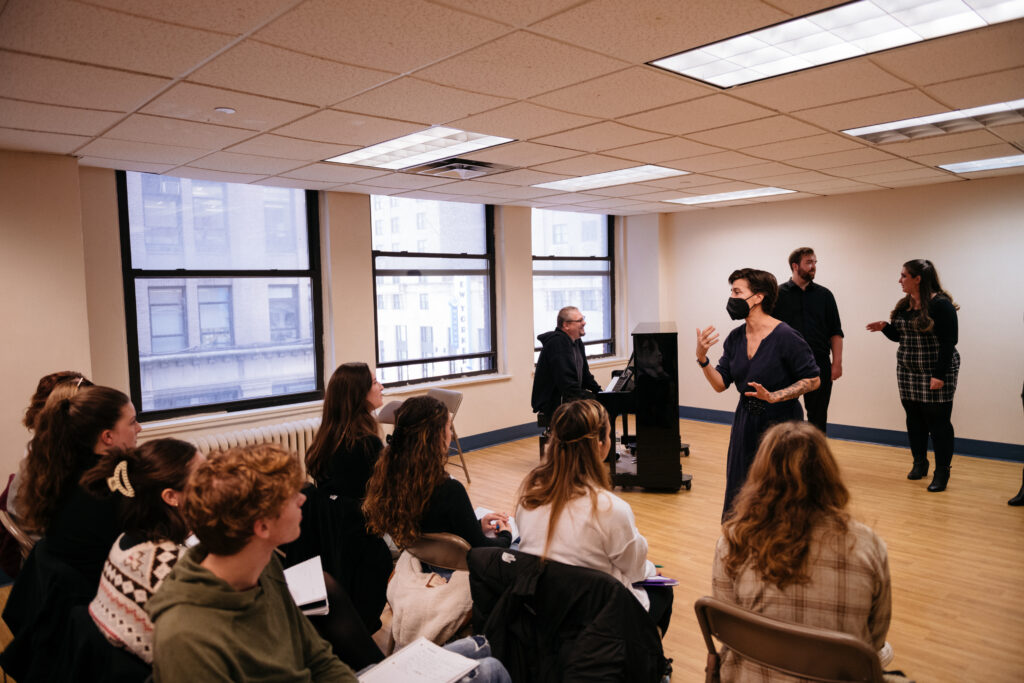 Tesori is considered one of the "most prolific and honored female theatrical composers in history, with five Broadway musicals and five Tony Award nominations," explained Nathan Brewer, director of Lyric Theatre.
In preparation for the performance, the students had the opportunity to sing and gain new ideas and exercises from Tesori during a masterclass in November in New York. 
"Actors can usually only rely on their own homework, analysis, and interpretation, with the help of a director, music director, or professor," Brewer said. "The opportunity to receive feedback from the creator of the work is unparalleled, and very few musical theatre students have the opportunity to work with legendary composers in the way that ours have."
The students will also have the opportunity to rehearse with Henry on the day of the show on campus. Henry performed as Rapunzel's Prince in the recent Broadway production of "Into The Woods."
"As a three-time Tony-nominated actor, Joshua Henry is in high demand," Brewer said. "Booking an actor who is so busy seemed like a long shot, but when I approached him about this performance last fall, he quickly responded with enthusiasm. In our conversations, he has made it clear that working with young artists is very important to him. I am confident that he will take this opportunity to make an impact in the lives of our students."
Last year, during Brewer's first year as director of Lyric Theatre, students from the academic course collaborated with Broadway composer Andrew Lippa, and performed his works with Broadway legend Kate Baldwin. 
"The opportunity to learn from a living composer, and to perform their work with a Broadway performer who is closely associated with that composer, was a profound educational experience," Brewer said. "My students and colleagues at other universities were in awe of this opportunity at TCNJ. I decided at that point to continue with this model, and asked my students to vote for their dream composer. The overwhelming majority chose Jeanine Tesori." 
Tim Amalfitano, a senior music education major, who grew up listening to Tesori's work, said meeting the composer "was a dream come true."
"This experience has reignited my spark for performing.  Everything that we saw and heard in that room that day has been so useful in application with my studies," Amalfitano said. "I want to be a music educator when I graduate and have the chance to inspire and influence a new generation, teaching each individual how they learn best. The information that we learned is something that not only will I apply for myself, but I am so excited to share it with a new generation."
Ella Malatesta, a freshman accounting major, who will perform a song titled The Girl in 14G, which was written by Tesori for Kristin Chenoweth's studio album, also reflected on the experience.
"[Jeanine Tesori] taught us that musicality is one thing but the ability to express a song through your body is another. She worked one on one with each of the soloists to help them tell the story of their respective songs," Malatesta said. "As Jeanine is the composer of the songs, it was wonderful to get her input and to hear about her experiences writing each of the songs."
The upcoming Lyric Theatre performance will take place on Wednesday, April 12 at 7:30 p.m. in the Kendall Main Stage Theater. For tickets, visit the TCNJ Box Office.
– Meaghan Resta