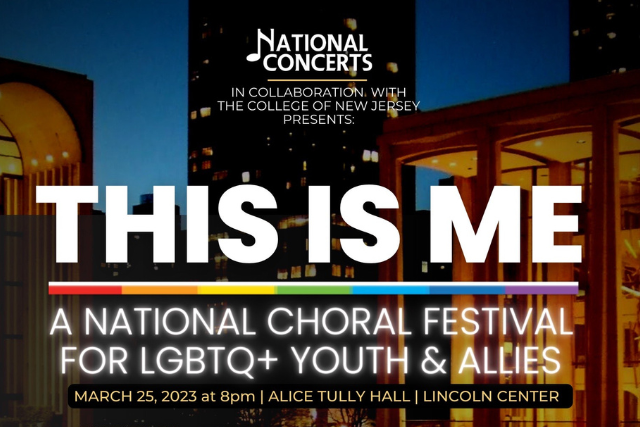 Choirs from The College of New Jersey will perform at Lincoln Center as part of a national choral festival for LGBTQIA+ youth and allies on March 25. The THIS IS ME festival, which began at TCNJ in 2019, also will feature a headliner from the hit Broadway show "Hamilton."
Ninety students from TCNJ's Chorale, College Choir, and Treble Ensemble will perform at Alice Tully Hall along with high school choirs from other states, mostly from the East Coast, said Nicholas McBride, associate professor and coordinator of music education.
"This is a once-in-a-lifetime opportunity; I'm really looking forward to it," said Aaron Center '25, a music education major. "I identify as transgender so for this performance to be something TCNJ is involved with it means a lot to me."
The festival started with a mission of creating a safe, welcoming, and affirming space for LGBTQIA+ students and allies to make music and celebrate the community. Now, TCNJ's music department "has taken a big step forward in collaborating with National Concerts to bring this festival to a world-class venue" in Manhattan, said McBride. About 180 students are expected to participate in all.
Deon'te Goodman from the cast of Hamilton will perform with students and share his story as an LGBTQIA+ artist who is in the hottest show on Broadway.
Special guest Jane Clementi, founder and CEO of the Tyler Clementi Foundation, will speak about her work in LGBTQIA+ youth advocacy, inclusion, and bullying prevention. The 2010 death by suicide of her son Tyler, at Rutgers University, brought national attention to those issues.
Among the choirs' performances will be the world premiere of "This is Me" by Melanie Stapleton.
"It's a piece with a beautiful message of acceptance and inclusion and I'm excited to teach and perform it with our participants," said McBride, who will co-conduct with JD Burnett, director of choirs at The University of Texas–Austin.
A portion of the concert proceeds will be donated to the Hetrick Martin Institute for LGBTQIA+ youth, and a number of complimentary tickets will be provided to the group and other LGBTQIA+ youth affirming organizations in the region, McBride said.
Information and tickets can be found here.
The festival also has received support and recognition from other leading advocacy organizations including Welcoming Schools–The Human Rights Campaign, The Tyler Clementi Foundation, and GALA Choruses.
---
— Patricia Alex