Serina Montero '23 is a senior Interactive Multimedia major with a penchant for fashion design. As a transfer student to The College of New Jersey, Serina is looking forward to what the future has in store. Kelly Stephens '23 sat down with Serina to discuss the connection she has to clothing and how that has translated to her work at TCNJ.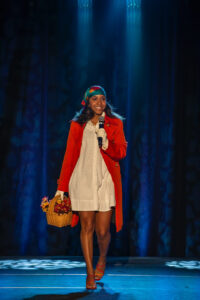 What made you choose to transfer to TCNJ for your undergrad?
Initially, I started school in Southern California at Scripps College. When the pandemic hit and school went online over Zoom, I knew that online was simply not for me. I decided I was going to take a gap year, which I spent mentoring high school girls in a program called Homeworks Trenton getting hands-on experience. TCNJ seemed like a great place to learn the technical skills for fashion that I was looking for. That's why I feel like IMM is a good fit for me, because I learned skills like video editing, Premiere Pro – FinalCut, Photoshop, CSS, and HTML. 
You are the founder of @wearwhatevauwant. How did the idea for that come about? 
I have been interested in fashion from a very young age. I joined clubs in elementary school and in middle school where I learned about dyeing clothes. My parents got me a sewing machine for Christmas in 2018, and I did little things with it like hemming skirts. But when the pandemic happened and I took a year off in 2020, I was looking for a creative outlet and needed a way to channel all my pent up energy. I have friends who live all over the place, from Oregon to Atlanta to D.C., so the Instagram account was a cool way to share what I was doing with my friends!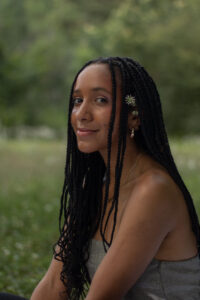 What sparked your interest in sustainable clothing?
Whenever I do something I enjoy, I'm always thinking about who will be affected by it. I've always loved fashion and consuming fashion media, but going the mainstream route of fashion was not something that I could participate in. Through research and becoming more politically aware of the impact of the fashion industry, I saw how it affects people in other parts of the world. 
What are some first-hand experiences that you have had here at the College?
The first that comes to mind is sidelining a fashion show. Last semester, I had a segment in the BSU Multicultural Fashion Show, where I was invited to do a sustainable segment in the show. It was amazing to be put alongside other amazing artists and to bring a lens to sustainability and the importance of buying locally at this fashion show. 
Serina Montero's time at TCNJ has been an experience that has encouraged her to expand her skills, as well as provide the opportunity to spread the word on sustainability and the impact that the fashion industry has had on the environment. The ArtsComm community is thrilled to see the amazing work she will do in the future!
-Kelly Stephens '23