Evan White, senior History major and Music Technology minor at the College of New Jersey, became interested in playing music by the age of 18 and is now an active member of both the School of the Arts and Communication and TCNJ community. Kelly Stephens '23 sat down with Evan to discuss the evolution of his academic and professional music journey.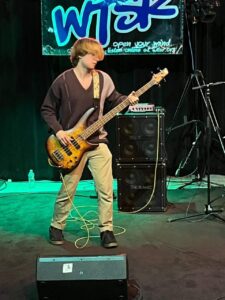 Why did you choose to attend TCNJ for your undergrad? 
Initially, I came here to be a high school history teacher. I was planning to study history and secondary education. During my student teaching experience, I realized that I was not as suited for the career as I had once thought. After I started to play gigs regularly, I did some reflection and thought, "All I ever think about is music and all I ever want to do is music-related." I thought that because I already work in the studio and serve as president of a music-based organization on campus, I might as well switch to music technology and base my career around working with sound. 
Are you/have you participated in any internships? 
Right now, I'm working in the Mayo Concert Hall, our on-campus recording studio, and as a learning assistant under Grammy award-winning producer and Adjunct  Professor Doug Beavers. I'm hoping to coordinate an internship with him for next semester and eventually get hired at a professional recording studio. 
Who are your faculty and staff mentors, and what have you learned from them? 
In the music department, I'd say my music technology advisor Dr. Teresa Nakra. I really appreciate her and the work that she does. Mark Kalinowski too. He's responsible for running the studio from an administrative standpoint in addition to coordinating the live sound gigs in Mayo. I'm very grateful that he hired me last year and for the amount of autonomy he gives me as an employee. In the history department, Mike Marino, Laura Hargreaves, and Cynthia Paces are all professors who have helped me, particularly through my change of career path. 
What is your favorite part of the creative process for music design? 
It's about the human connection. When my bandmates and I are at rehearsal, I'll start playing something and before you know it, we are in the process of creating a song that we have all contributed to. When you compose music, it's kind of like your songs are your kids. You want them to be the best that they can be. There's a lot of passion, pride, and excitement surrounding that process. 
What are you most excited to work on in the near future? 
I'm in a band right now with my childhood best friend on vocals, myself on bass, a long-time musical partner of mine on rhythm guitar, his roommate on lead guitar, and a new member of my club, the Association for Music Production and Discussion, on drums. We are excited to continue making music together.
Evan and his band plan to record an EP and release it around December 2022. They hope to distribute it to radio stations, DJs, venues, and record labels.
–Kelly Stephens '23