Assistant Professor of The Department of Communication Studies and award-winning filmmaker Matt Lawrence '05 has been fascinated with horror films since his childhood.
"While other kids were watching Sesame Street or Mr. Rogers, I was obsessively watching movies like Ghostbusters," Lawrence shared. Soon after, he began renting horror classics like A Nightmare on Elm Street and quickly became hooked.
Lawrence first began to explore independent filmmaking during his undergraduate years at TCNJ. "I was encouraged by my professors to actively think outside the box and follow my creative intuition. They showed a keen interest in helping students to develop their skills by providing thoughtful and constructive feedback," Lawrence explained. "I really felt that I was seen by my professors and that they were eager to help me grow."
Post-graduation, Lawrence pursued an MFA from Boston University in Film Production with a concentration in Screenwriting and Directing. He continued to build his body of work and evolve his style within the horror genre. "Of all of the different approaches to horror, my work tends to be more comedic and high-energy," Lawrence said. "One of the most important aspects of a good horror movie is the pace. In my films, I try to establish a rhythm where something funny, wild, or engaging happens every 30 seconds to a minute."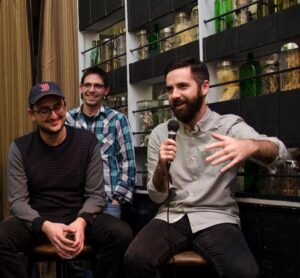 Lawrence's latest horror feature film released in August 2020, Uncle Peckerhead, was a prime example of fast-paced, comedic horror. "This was my most ambitious project, and there were moments when I thought it might never get made. With the help of my crew, the movie ended up surpassing my expectations and then some." Uncle Peckerhead is currently accessible in more than 25 countries worldwide and has a 100% approval rating on Rotten Tomatoes.
In addition to filmmaking, Lawrence enjoys his work as an Assistant Professor. He is grateful for the opportunity to teach a subject he feels passionate about. "Just like my students, I constantly learn new things. Film and TV production is never in a stagnant state, and the industry is always changing. If you want to do well as an educator, you need to be ahead of the curve," he said. Lawrence shared that watching students evolve in their work inspires him to do the same himself. 
Lawrence is in the process of developing his latest feature script, Axe Girl Goes Kill, which was recently optioned by production company Mischief Farm. "I can't say too much about it, but we are hoping to get the green light to begin filming by late Spring or early Summer of 2023."
As for a few movie recommendations for the Halloween season, Lawrence was impressed with the most recent 2022 releases of Pearl, Barbarian, and NOPE. However, he emphasized that not many movies can compare to the original The Texas Chainsaw Massacre, which he deemed "one of the best American films of all time."
Lawrence hopes to spread his captivation with the horror genre by teaching a course on Modern American Horror in the fall of 2023. Lawrence says that he enjoys listening to his students' opinions on the movies that they discuss and sharing their overall appreciation for the craft.
–Madison Rubino '22, M.A. in Counseling Candidate