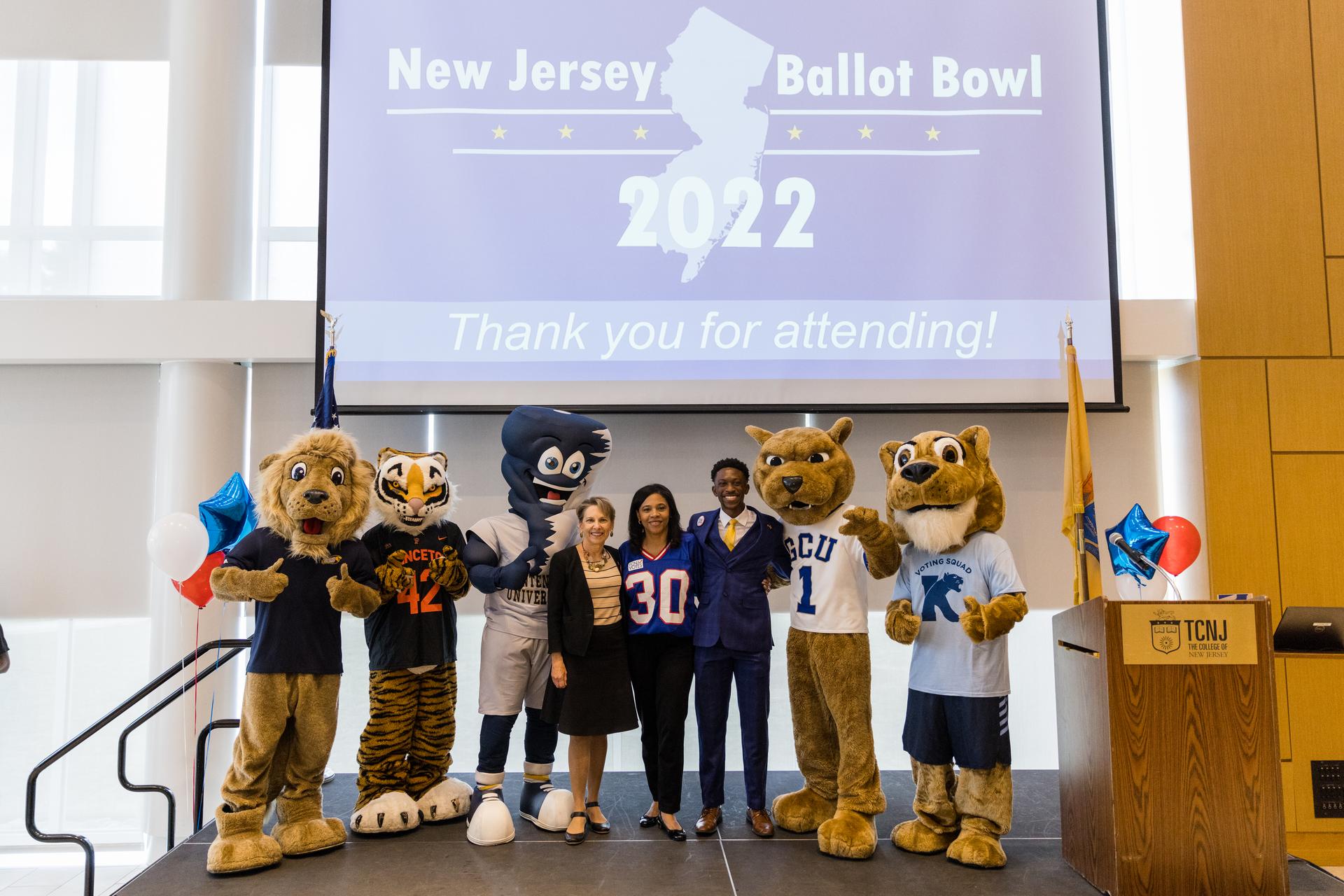 TCNJ has one of the highest student voter participation rates in the nation and efforts are underway to maintain that momentum this election season.
New Jersey Secretary of State Tahesha Way was at TCNJ on Tuesday, September 20 to kick off the NJ Ballot Bowl, a non-partisan competition among colleges statewide to get students to register and pledge to vote. Watch the livestream recording of the event on Facebook.
TCNJ recently was recognized as one of the best colleges for student voting by Washington Monthly, a designation earned after an impressive 83.1% of registered students voted in the 2020 general election, as compared to a rate of 66% at colleges and universities nationwide.
The participation rate — up nearly 30% from 2016 — owes, in part, to the intense interest in that year's presidential election. But students were also encouraged to become educated and involved through voter registration drives, educational and informational sessions, film screenings and more, many sponsored by the TCNJ VOTES! Initiative through the Center for Community Engagement and the Office of Leadership.
With issues like climate justice and reproductive rights at the forefront, the spotlight is on congressional elections.
"People are definitely excited to vote. They understand how consequential this midterm election is," said Jared Williams '25, vice president of governmental affairs with TCNJ Student Government.
Information and education also will be available on new voting protocols that make it easier than ever to cast a ballot. Vote-by-mail accelerated during the pandemic (there is now a ballot box on campus, located outside of the Administrative Services Building) and this year New Jersey also offers early in-person voting. On-campus students can register in Mercer County or in their home districts.
Education campaigns also aim to highlight the rest of the ballot – including municipal, school board and county elections.
"You need to know who's in charge, who's making decisions," Neerja Upreti '24 said. "I understand why people are apathetic about voting; sometimes it does feel hard to be hopeful. But we're lucky that people want us to vote. We need to take advantage of it."
Brittany Aydelotte, director of the Community Engaged Learning Institute, and Avani Rana, director of leadership in the Division of Student Affairs said it is hoped that early voter participation sparks lifelong involvement.
"We try to get students to think about what issues are important to them. We want them to be informed voters as they make their decisions," Rana said. "It's part of our goal as active global citizens."
Learn more about the TCNJ Votes! initiative at vote.tcnj.edu.
---
— Patricia Alex
Updated at 2 p.m. on Tuesday, September 20