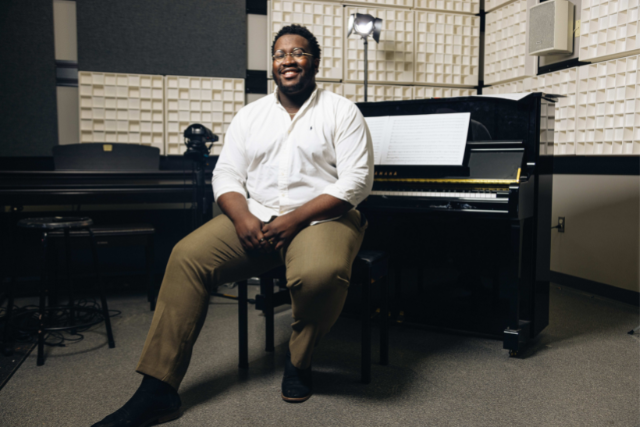 Terence Odonkor received a huge compliment last spring while working as an orchestrator, arranger, and copyist for a theater production in Baltimore: the production's music director compared him to legendary record producer and musician Quincy Jones.
Like Jones, Odonkor has found himself lending his music skills to everything from Broadway productions to regional projects alongside high-profile industry professionals twice his age. And while that's not exactly the norm for someone who was still in college at the time, Odonkor, like Jones, has found his talents up to the task.
"That comment really helped to open my eyes to the path that I was making for myself and the potential that others were already seeing in me," the music major says.
Odonkor's interest in music — and his desire to become a musician — started early when he picked up the saxophone to fulfill a curriculum requirement in middle school
"I chose the saxophone arbitrarily, but then I fell in love with it," he says. "It became a sort of obsession. I wouldn't really watch TV or play video games. Instead, I would practice."
That practice paid off. When a TCNJ music professor visited Odonkor's high school and heard him play, Odonkor was invited to observe the concert band at the college. The faculty's hands-on approach to instruction and the one-on-one attention they gave to their students convinced Odonkor that TCNJ was where he wanted to study music.
But he wasn't just interested in playing music. He realized writing music would allow him to access other levels of his creativity. In addition to adding his saxophone talents to the jazz band and concert band at TCNJ, Odonkor has served as music director for the Trentones a cappella group, helped with arrangements for TCNJ's Rocks On concert, and re-orchestrated work and wrote a piece for the school's wind ensemble.
"I have been fortunate to work with TCNJ professors on a more professional level, rather than just in a classroom setting, and those opportunities have helped to expand my craft and prepare me for the real world," Odonkor says.
In the "real world," Odonkor has had many musical gigs, including serving as the music assistant and copyist for the first national tour of "Pretty Woman" and "Acoustic Rooster's Barnyard Boogie," which premiered at the Kennedy Center last fall; and as the score supervisor for a new Broadway musical "BLISS." He is also a member of MUSE (Musicians United for Social Equity), an organization that provides support to musicians of color. Last June, Odonkor was accepted into the organization's coveted mentorship program and was lucky enough to be paired with Stephen Oremus, a Tony and Grammy award winning musician who has worked on productions like "Wicked" and "The Book of Mormon." On April 26, at just 22, Odonkor made his Broadway debut as a music assistant with "A Strange Loop," which was named Best Musical at the 75th Tony Awards on June 12, 2022.
Now with a TCNJ degree in hand, he'll be working as a music assistant for two new musicals and as a copyist — proofreading and organizing the finished scores for musicians to play during studio sessions or performances — for a concert series.
"I love getting to take a melody that's in my mind and write it down like you would write a story," Odonkor says. "It's fascinating to me that you can read these black dots and lines like you would read a book. To see a finished score, exactly as it was in my head, now on paper and no longer abstract, is surreal."
---
— Kelley Freund