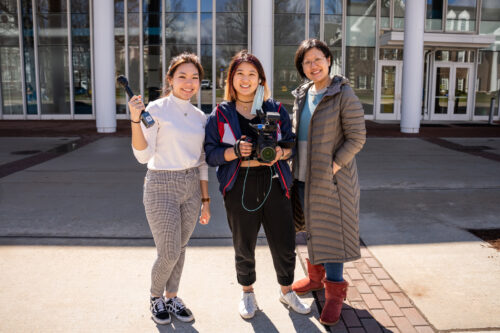 This semester, Associate Professor of Communication Studies Yifeng Hu is working with a small group of students on an Asian American Pacific Islander (AAPI) Advocacy Campaign that aims to inform the campus about AAPI history and contributions, promote AAPI representation and visibility, and combat Asian hate and stereotypes. The campaign includes a series of interactive and engaging activities that are happening now leading up to AAPI Heritage Month in May.
Street Interview: Can you name one famous Asian American?
The campaign kicked off with a fast-paced video that tested TCNJ students' knowledge on Asian American Pacific Islanders. It's also dedicated to honor Vincent Chin, who was brutally killed in Detroit, Michigan, 40 years ago in a racially motivated hate crime. 
#NotYourStereotype Photo Exhibit
The team hopes to tell people's stories beyond what is typically thought of past their Asian stereotypes. If you or your students identify as AAPI and would like to be part of the photo exhibit on campus, fill out this form. The exhibit of photos will be on display in AIMM 118 from mid to late April, and then outdoors in early May. 
AAPI Pop-Up Exhibition
There will be an outdoor exhibition of art/writing/music to celebrate AAPI history and advocacy on the lawn between Green Hall and the Brower Student Center from May 4 to May 6 during the AAPI Heritage Month. The campus community is invited to submit any creative work on a specific theme of AAPI representation by filling out this form.
#TellYourAAPIStory Anonymous Post
AAPI members, faculty, staff, and students are invited to freely express their thoughts, emotions, and overall experience of being a part of the TCNJ community. It will allow members to interact with the campaign and raise awareness of how AAPI members experience TCNJ and shed light on our campus' diversity and inclusion. To participate, fill out this form and the AAPI Advocacy team will post direct quotes from the submissions on its Instagram.
#AAPINotShadows Solidarity Pledge
This event will run from May 4 to May 6 on Green Lawn, and will feature an interactive mural for students to engage with and sign as a pledge of commitment to stand with the AAPI community. Once the mural is complete, it will serve as a reminder to TCNJ that, when it comes to uplifting, empowering, and supporting the AAPI community, we are strongest when we work all together. Students will be given resources on how to educate themselves when standing in solidarity with the AAPI community, and will be offered the opportunity to challenge themselves and self-reflect on their own personal understanding of allyship through an informative survey. More details to come.
The students participating on the AAPI Advocacy team include Nicole Carberry, Jaime Hennig, Kelly Jung, Fox Parks, Stephanie Shen, Gabriella Son, Nicholas Textores, and Bella Trucco.