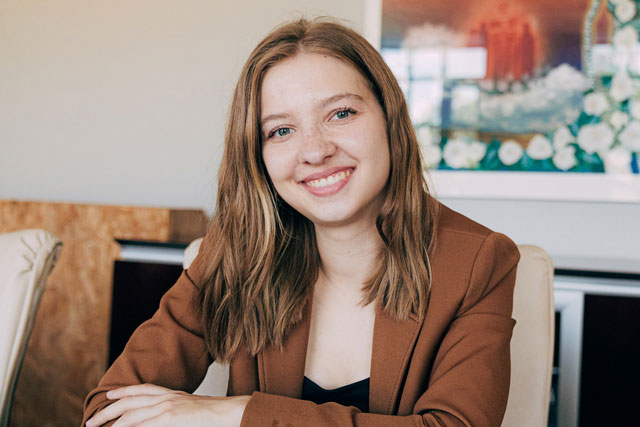 The news cycle can be relentless, but for Camille Furst '22, it's also incredibly rewarding.
Furst, who interned on CNN's national news desk this summer reporting on stories from across the country, says one of her favorite parts of working the desk was learning about the make up of America.
"Each day when I signed on, I never knew what state or region I'd be reporting on," explains the journalism and professional writing major. 
Early in her stay at CNN, Furst spent a good deal of time reporting remotely on the condominium collapse in Surfside, FL, talking to experts and survivors of the tragedy that dominated headlines for weeks. 
"I have never worked on such a big story, and for weeks on end, in my career before. There were times it was tiring, both physically and emotionally. But I knew I had a job to do," she says. "It was a story I'll never forget."
But there was also time for the offbeat and fun. A widely read story about a rare and colorful 100-pound opah "moonfish" that washed up on the Oregon coast in July made it to the No. 2 spot on Apple News' "Trending News" list.
"Every time you report on an area, you learn more about its community and experience. I get to learn constantly while I'm on the job, and that might be my favorite part about journalism," she says.
The internship at CNN was remote due to coronavirus restrictions, as was another she did earlier in the year at an NBC affiliate in Washington D.C. Nonetheless, the experiences were invaluable, said Furst, who last year served as editor-in-chief at TCNJ's award-winning student newspaper, The Signal. She also completed an internship at The Record newspaper in North Jersey last summer.
The internships helped affirm that she's chosen the right path, teaching her more about the craft of journalism and the empathy and emotional endurance needed to do it right. 
"It reminded me again that the reason I'm in this career is for the community that I'm reporting for and to," she said. 
Furst says her work at the campus newspaper was pivotal. 
"I wouldn't have gotten those internships if not for The Signal," she says. "The people I worked with pushed me to be a better journalist."
Currently back on campus for fall classes, Furst may pursue another internship opportunity in the spring, before she graduates in May. 
"Right now, this is where I want to be, and this is where I'm meant to be," she says.
---
— Patricia Alex