Three faculty members from The College of New Jersey will be featured in the 2021 STEM for All Video Showcase, from May 11-18, funded by the National Science Foundation. Kim Pearson, Associate Professor of Journalism and Professional Writing, Monisha Pulimood, Chair and Professor of Computer Science, and Diane Bates, Professor of Sociology will report on their project, Collaborating Across Boundaries to Engage Undergraduates in STEM Learning, (CAB), funded by the National Science Foundation (Award # 1914869 ). Viewers will be able to see their three-minute video and other supporting material at https://stemforall2021.videohall.com/presentations/2075.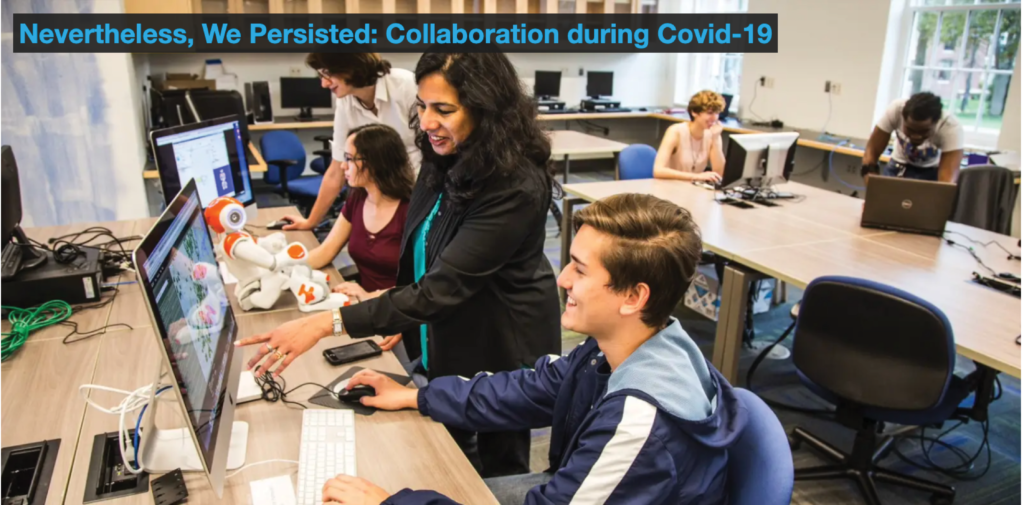 CAB is a strategy for deepening students' STEM learning by pairing classes from STEM and non-STEM disciplines and having them collaborate with a community partner on solutions to a community-identified problem. Pulimood is the Principal Investigator for the project; Bates and Pearson are co-Principal Investigators.
The presentation, entitled "Nevertheless, We Persisted: Collaboration during Covid-19," highlights some of the teaching collaborations that have taken place over the last three semesters, as Covid-19 forced classes online. In one instance, having to work online create new opportunities. For example, one pair of faculty collaborated with a high school in India. The presentation itself is a product of an interdisciplinary faculty-student collaboration: the video's narrators and interviewers are sophomore Communications Studies and Public Health major Paige Hammond and sophomore English and Sociology major Supriya Mishra.
"We know from past research that undergraduate students' motivation to pursue STEM-related knowledge and skills increases when they have an opportunity to work on projects that can have real-world impact. " said Kim Pearson, co-Principal Investigator for the CAB project. "Since the Spring, 2020 semester, 13 faculty, 20 classes and 10 community partners have participated in the NSF Collaborating Across Boundaries project at TCNJ, and that gives us an opportunity to see how replicable our earlier research results are, and how our model works in different types of configurations. We're excited to return to the STEM for All Video Showcase for the second year in a row to share what we are learning and learn from fellow STEM educators and researchers."
Now in its seventh year, the annual showcase will feature over 250 innovative projects aimed at improving Science, Math, Engineering and CS education, which have been funded by the National Science Foundation and other federal agencies. During the 8 day event, researchers, practitioners, policy makers and members of the public are invited to view the short videos, discuss them with the presenters online, and vote for their favorites.
The theme for this year's event is "COVID, Equity & Social Justice." Video presentations address broadening participation, impacts of COVID on STEM teaching and learning, design implementation on STEM and CS programs, research informing STEM and CS teaching and learning, and measuring impact of innovative programs. Collectively the presentations cover a broad range of topics including science, mathematics, computer science, engineering, cyberlearning, citizen science, maker spaces, broadening participation, research experiences, mentoring, professional development, NGSS and the Common Core.
Last year's STEM for All Video Showcase is still being accessed, and to date has had over 86,000 unique visitors from 180 countries.
The STEM for All Video Showcase is hosted by TERC, in partnership with: STEMTLnet, CADRE, CAISE, CIRCL, STELAR, CS for All Teachers, NARST, NCTM, NSTA, NSF INCLUDES, and QEM. The Showcase is funded by a grant from the National Science Foundation