TCNJ Lyric Theatre's virtual production of As You Like It, a musical adaptation of William Shakespeare, will stream May 13-16 at 7 p.m. Free tickets are available at tcnjlyrictheatre.anywhereseat.com.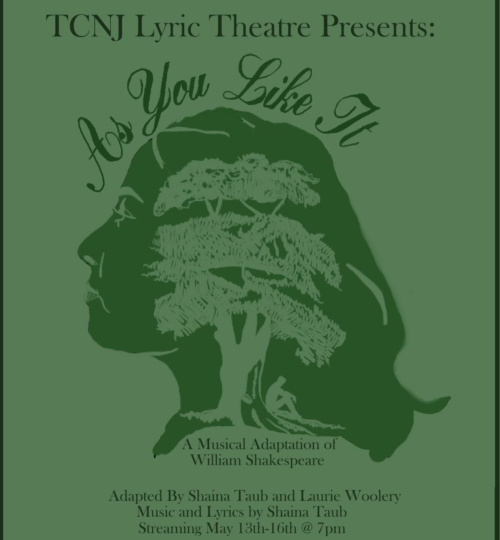 Named one of The New York Times' best shows of 2017, As You Like It is an immersive dream-like tale of faithful friends, feuding families and lovers in disguise. 
Forced from their homes, Orlando, Duke Senior, his daughter Rosalind and niece Celia, escape to the Forest of Arden, a fantastical place of transformation, where all are welcomed and embraced. Lost amidst the trees, the refugees find community and acceptance under the stars.
The musical is adapted by Shaina Taub and Laurie Woolery, and features an original folk-pop score by Taub.
The TCNJ cast includes Lara Becker '21 as Jaques, the narrator; Lauren Petite as the assistant director and the character Touchstone; Amy Schroeder '22 as Rosalind; Tim Amalfitano; and Joey Rippert '21.
"As we were brainstorming show ideas, our music director Stefanie Watson suggested this adaptation of As You Like It, and the more research I did, the more perfect it felt for our theatrical family," explained Kaitlin Davis, and director of Lyric Theatre. "The idea of celebrating inclusivity, that all are welcomed and loved here, is one of our core values. That we could do that while sharing joy and humor after such a challenging year apart really sealed the deal."
Rehearsals for this spring took place virtually. The cast had two in-person meetings where they  could walk through the actual locations and try out some props. All of the filming for the virtual production took place on campus on April 18. 
Petite, who serves as the show's assistant director, said the experience was unforgettable.
"To get such an amazing opportunity out of a less than perfect situation due to the pandemic is something I am super grateful for. I am very thankful to be able to do something so unique for my senior year," Petite added.
Becker, who has participated in Lyric Theatre for the past three years, said the shows bring the cast "together in a time where it's easy to feel isolated." 
"This time around, we all got to safely go to campus and film the show, which was such a wonderful experience," Becker said. "Getting to see everyone again felt just like home, and I think that's the feeling we'll be able to translate to viewers as well — this sense that everyone belongs." 
Schroeder echoed Becker's sentiments.
"Most of our staging was improvised due to our inability to rehearse in person so this process has really tested my theatre skills. However, there is no other cast that I would have wanted to just jump into this show blindly with," Schroeder said. "We all worked so well as a team and trusted each other the entire time. I am endlessly grateful for this show."
As the show's music director, Watson said it's easy to feel isolated when you are recording individual parts remotely, but these virtual projects demonstrate "that the whole truly is greater than the sum of its parts." 
"It's always an emotional moment when I play through the first ensemble number I'm editing and I hear the voices all together – it makes me really excited for the future and being able to do some form of safe, in-person theatre again," said Watson, who is an adjunct faculty in the Department of Music. "This has been a wonderful show to work on thematically, too, because as we start to see some hope on the pandemic front, finding our safe havens, our own forest of Arden, seems more and more possible, and that's what so many of us need these days."