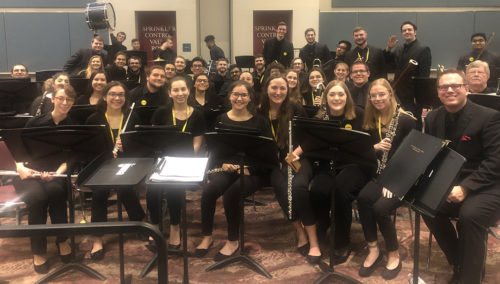 More than 90 students and faculty represented The College of New Jersey's Department of Music at this year's New Jersey Music Educators Association (NJMEA) State Music Conference at the Atlantic City Convention Center. Several TCNJ music alumni also attended.
TCNJ Chorale and TCNJ Wind Ensemble were both selected to perform at the conference for practicing, retired, and prospective music educators. 
TCNJ Chorale performed Seven Joys by Pulitzer Prize-Winning composer Caroline Shaw on February 20. Associate Professor of Music and Director of Choral Activities John P. Leonard conducted the performance, which featured student soloists Angelina Francese and Monica Alvarado, and the Presentation Brass, composed of Assistant Professor of Music Gary Fienberg trumpet; Brian Woodward '95, trumpet; Lawrence Kursar, horn; James Penkala '77, trombone; and Gary Cattley '79, tuba. 
"We are proud of how our students so beautifully and professionally represented TCNJ and contributed to sustaining and elevating the high-level of the Arts and Education in NJ," Leonard said.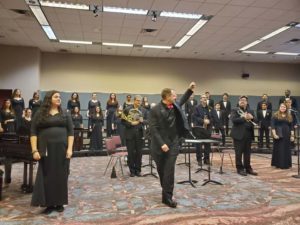 Assistant Professor of Music and Director of Bands Eric Laprade conducted TCNJ Wind Ensemble's concert on February 21. The program featured performances of Sally Lamb McCune's Pocket (TCNJ Commission); the New Jersey premiere of Ricardo Lorenz's Caminantes (TCNJ Co-Commission); Steve Danyew's Into the Silent Land (TCNJ Co-Commission), and Gustav Holst's First Suite in E-flat, Op. 28, No. 1. Associate Professor of Music Suzanne L. Hickman narrated the performance of Into the Silent Land. 
"These performances were a wonderful opportunity for our TCNJ community — students, faculty, and alumni — to come together and celebrate the meaningful and high-quality work we do here at the college. Our students represented themselves, our department, and the college, at the highest level and we are very proud of their performances," Laprade said.
View a complete list of student performers and program notes.