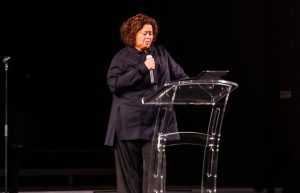 "If you say a word long enough, it becomes you." Anna Deavere Smith used these words from her grandfather as inspiration to travel across the country in an attempt to become America and understand the nation's relationship to race, particularly its effect on the school-to-prison pipeline. Her one-woman show, Notes From the Field, takes interviews conducted in cities across America and transforms them into dramatic monologues. Ms. Smith performed a segment of her show for the campus on Wednesday, April 25, in the Kendall Main Stage Theater. Taking on the voices of people like Kevin Moore, who filmed the arrest of Freddie Gray, and Allen Bullock, who participated in protests in Baltimore following Gray's death, Ms. Smith explored the realities of police brutality through the eyes of people directly impacted by this violence. She also championed people she refers to as "walkers": teachers, parents, and mentors who choose to walk beside some of the most underserved members of their communities in need of help and guidance.
Ms. Smith ended her performance on a monologue taken from a man who was not a part of her interview series, the late novelist and social critic James Baldwin. His words, spoken over forty years ago, still hold weight today and speak to the spirit of Ms. Smith's artistic endeavor: "We are responsible, insofar as we are responsible for anything, we are responsible for the future of this world."
Anna Deavere Smith is a University Professor at the Tisch School of the Arts at New York University. She has been the recipient of a MacArthur Fellowship, as well as the National Humanities Medal, presented to her by President Barack Obama. She is currently starring in ABC's legal drama For The People. Notes From the Field premiered on HBO on February 24, 2018.