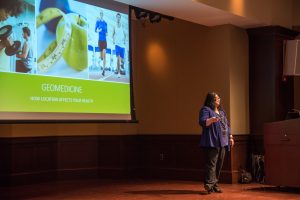 Our fourth Brown Bag Series event, presented by Dr. Amy Blatt, introduced the intersection of geography, public health, and medicine and its effect on patients' overall health. Taking daily environment into consideration can help health care professionals achieve a more thorough understanding of their patient and allow for more effective treatment. Dr. Blatt's presentation covered many of the topics explored in her book, "Health, Science, and Place: A New Model" (Springer 2015), including the role of geography in health care reform, the geographies of human health, geospatial data and technologies, and geography in medicine.
Dr. Blatt is a medical geographer and public health researcher with over 20 years of experience in the fields of geography, science, and public health.  She holds a BS in biological sciences from Stanford and PhD in geography from the University of Cincinnati.  Dr. Blatt was on the faculty at West Chester University and a guest lecturer at Villanova University.  She has served as guest editor of the International Journal of Applied Geospatial Research and the Journal of Map and Geography Libraries.  She is currently employed at Vanguard.
This event was hosted by the Communication Studies department and was cosponsored by the Center for Health Communication and by the Public Health Communication Club.