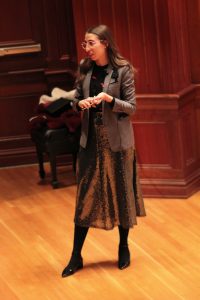 Today's Brown Bag Series presenter, Caroline Vazzana, knows the importance of making a game plan. As a college student, she tried her hand at fashion classes until she decided how she wanted to enter the industry, and by her sophomore and junior years, she was already interning for prestigious names in the fashion world like Anna Sui and Marie Claire. By the age of twenty, she was styling stars for the MTV Video Music Awards and making a name for herself before even graduating college.
But Caroline knows the important characteristics for interns, assistants, and job applicants no matter what industry they're working in – being organized, creative, outgoing, and hardworking are crucial to any field of interest.
What's just as essential in today's digital world is the importance of online brand building. In her lecture today, Caroline thought back to her early days on Instagram and reflected on the importance of being mindful about posting photos. She emphasized that Instagram is now a tool for self-promotion, networking, and even job searching, and it's increasingly necessary to portray yourself online in a way that can appeal to followers and possible employers.
Caroline Vazzana's book, Making It in Manhattan, which will be released in August of 2018, is the culmination of her own work in personal brand building. Her website, MakingManhattan.com, is a reflection of her time working in the fashion industry and a way to share her knowledge through a medium that allows her to be self-employed while still connecting with the industry that drives her passion.