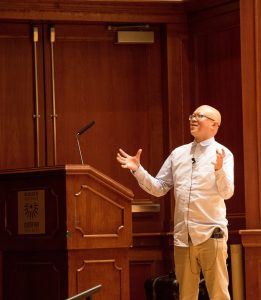 Today's Brown Bag Lecture, presented by graphic designer Allan Espiritu, highlighted the importance of rejecting complacency and staying personally connected to the art we create and consume in the era of mass produced media.
Allan Espiritu is a Philadelphia based graphic designer and educator. He received his BA in graphic design from Rutgers University, Camden and his MFA in graphic design from Yale University, School of Art. He is the founder of GDLOFT, an award-winning design agency based in Philadelphia that specializes in elevating the visibility and accessibility of creative, cultural, and educational institutions and individuals.
In 2017, Mr. Espiritu was included in the Barnes Museum's critically acclaimed show Person of the Crowd.  He is an active member of AIGA Philadelphia, serving as president in 2013. Most recently, he was named the 2017 AIGA Philadelphia Fellow, the chapter's highest honor given to a member. Mr. Espiritu heads the graphic design concentration at Rutgers University, Camden Campus.